Ultimate East Coast Explorer + Sydney
From Sydney to Cairns, we'll explore the best of Australia's East Coast in an epic 6 week adventure. From Sydney's city vibes to the surf culture of Bondi Beach, we'll experience everything this amazing city has to offer before starting our Ultimate East Coast adventure! Chill in Byron Bay, explore Fraser Island by 4×4, sail the Whitsundays, snorkel the Great Barrier Reef and everything in between – we'll check everything off your Aussie bucket list!
The Highlights
Starting in Sydney, we'll travel up the East Coast, stopping off at amazing spots along the way: Sydney Harbour, Bondi Beach, Fraser Island, Town of 1770, The Whitsunday Islands, Mission Beach – we'll see it all, and much more!
What's the Deal?
This package includes your travel pass from Sydney to Cairns, a fun and experienced Ultimate guide, 42 nights of accommodation, heaps of awesome activities and some meals along the way. You'll be travelling with your group & guide on a comfortable coach complete with wifi and reclining seats. You'll make heaps of mates along the way – perfect for solo travellers!
Ultimate Guides
Our awesome Ultimate guides will be travelling the East Coast with you from start to finish and on hand to help you with anything you need along the way. Our guides are professional, first-aid trained and passionate about giving you the best experiences in the places we travel to!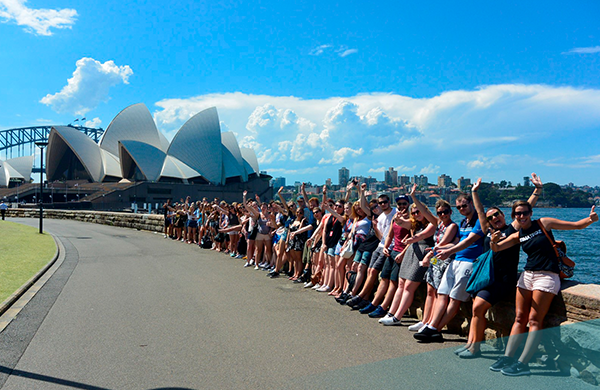 Day 1 – Welcome to Sydney!
Your Aussie adventure kicks off in Sydney! When you land, our driver will take you directly to your accommodation – one of Sydney's best backpacker hostels. Settle in and get ready for your epic adventure in the land down under! Today, join us at Ultimate HQ where you'll meet the rest of your group. We'll talk you through the plans for the next few weeks, answer any questions you have and introduce you to the crew. Next, we'll take you on a guided city walk; think selfies in front of Sydney Opera House, lunch in Darling Harbour, lush Botanical Gardens and China Town. This evening we'll take you to our favourite backpacker bar for our Welcome dinner.
1N Sydney City
Welcome Dinner
Includes: Airport Transfer, City Walk, Welcome Dinner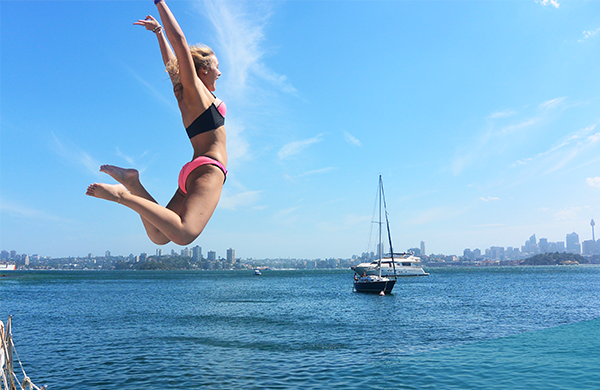 Day 2 – Explore Sydney Harbour
Today, we explore Sydney Harbour on our private catamaran! We'll cruise under The Harbour Bridge and past the Opera House stopping off at one of Sydney's hidden bays for a swim. Enjoy your first Aussie BBQ, jump into the warm harbour waters and sip on a few chilled beers in the sunshine! What better way to spend your first two days in Sydney?
1N Sydney City
Cruise BBQ
Includes: Sydney Harbour Cruise, BBQ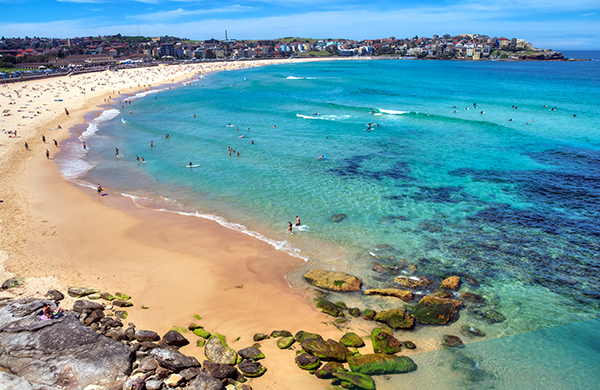 Day 3-4 – Bondi Beach Vibes
This morning, leave the city behind and head to the world famous shores of Bondi. Your modern beach hostel is in prime position, overlooking Bondi beach. Watch the surfers, take a dip in the clear blue waters, spot 'Bondi Rescue's' Lifeguards or take part in a yoga class on the rooftop of your hostel. This evening, enjoy a 'cheese and wine night' with new mates. You'll have two days here so unpack, unwind and soak up the beachy vibes of Bondi!
2N Bondi Beachfront
Includes: Wine & Cheese Night, Rooftop Yoga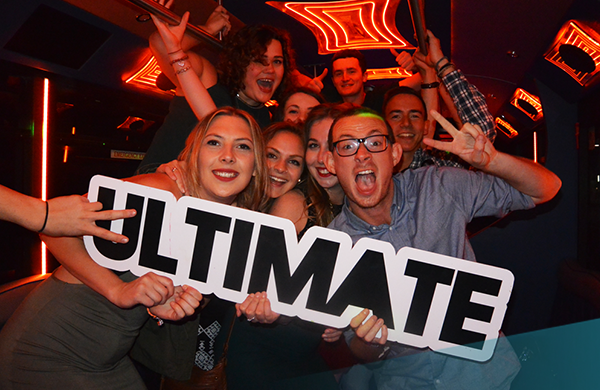 Days 5-6 – It's Party Time
This morning join an optional surf lesson in Bondi (add-on) or check out the boutique shops in Bondi's laneways before washing the sand off your feet and heading back to the city. Spend the next day chilling, take a stroll over the top of The Harbour Bridge, hop on a ferry to Manly or join a day trip to The Blue Mountains (add-on) This evening, get ready for the Ultimate party night! We'll take you on a pub crawl of the best backpacker bars and clubs in Sydney.
2N Sydney City
Includes: Party Night (3 Free Drinks), Surf Lesson (add-on), Blue Mountains (add-on)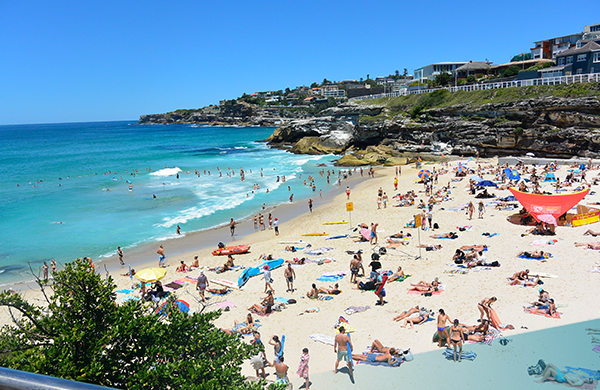 Day 7 – Coastal Beach Walk
There's no better way to shake off last night's hangover than with some fresh sea air! After a little lie-in, we'll take you on the famous Coogee to Bondi coastal walk, stopping off at five stunning beaches and coves along the way. Just another reason to fall in love with Sydney!
1N Sydney City
Includes: Coogee to Bondi Coastal Walk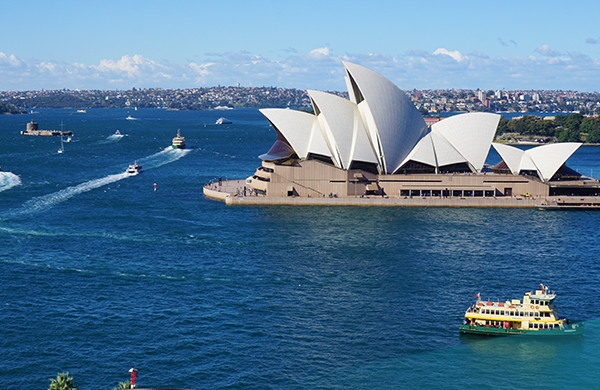 Day 8 – East Coast Australia
This evening, we begin our East Coast adventure. We'll travel overnight by luxury air-conditioned bus – complete with Wifi, USB ports and reclining seats – to our first destination, Byron Bay. Sit back, relax and get ready for your epic East Coast adventure!
1N Overnight Bus
Includes: East Coast Orientation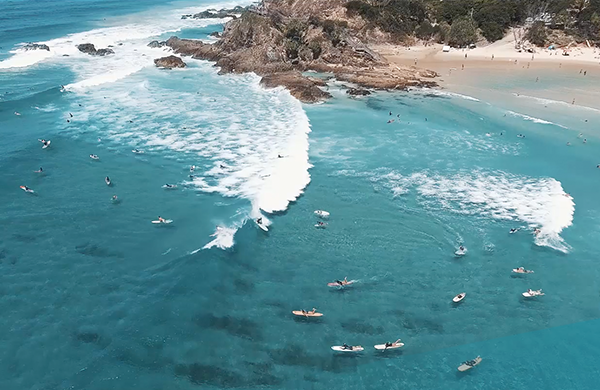 Days 9-12 – Byron Bay
Byron Bay is famous for it's amazing beaches, laid-back-surfer attitude and boho vibes. Here we'll explore the relaxed town and some of the many beautiful beaches in the area as well as the famous Byron Lighthouse, standing at the most easterly point of the Australian mainland, at sunrise. Embrace the surfer vibes of Byron with a professional surf lesson. Keen for more? Get up close with friendly wild dolphins on a dolphin kayaking tour or check out the alternative hippie hub of Nimbin (add-ons).
4N Byron Bay
Includes: Beach & City Tour, Yoga, Cheese & Wine Night, Surf Lesson, Sunrise Lighthouse Walk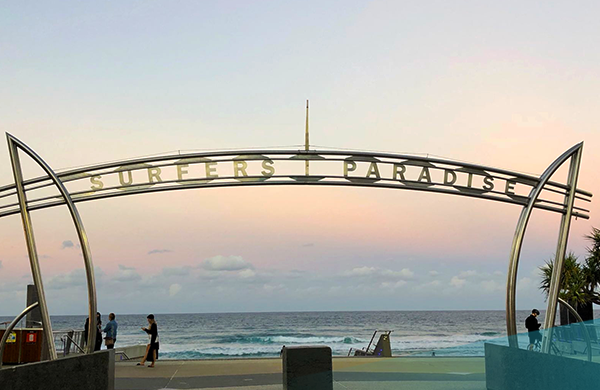 Days 13-15 – Surfers Paradise
This morning, we'll hop on the bus to Surfers Paradise: where long stretches of stunning sandy beaches meet high rise buildings and never-ending nightlife! By day we'll explore the town and beaches and at night, we'll make the most of the nightlife! Get dressed up and join our optional party night (add-on) for the real Surfers experience! Join a stand up paddleboarding session (add-on) or if you love theme parks, your tour guide can also help you organise a visit Dreamworld, The Gold Coast's most famous theme park (optional add-on).
3N Surfers Paradise
Sausage Sizzle
Includes: City & Beach Tour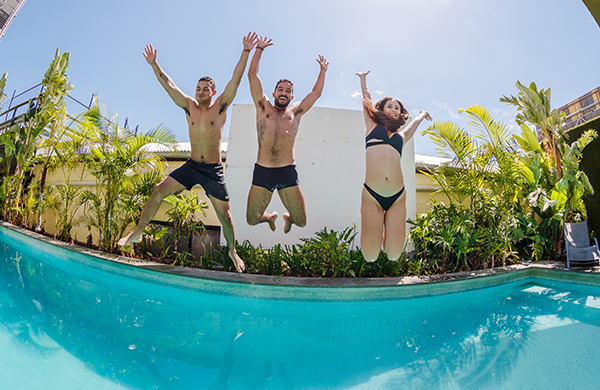 Days 16-17 – Brisbane City
After a short journey North of the Gold Coast, we'll arrive at our Brisbane accommodation, right in the city centre. We'll spend the next two days checking out some of Brisbane's hotspots including Street's Beach (Brisbane's man-made city lagoon), Brisbane River and the cultural hub of the South bank. You'll also have the option to head to the famous Australia Zoo to see some amazing wildlife! (add-on).
2N Brisbane
Includes: Guided City Tour & Streets Beach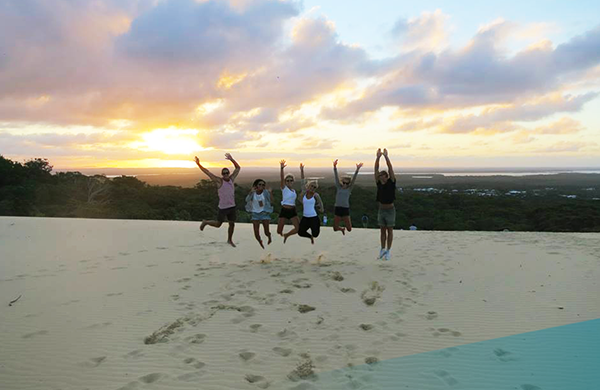 Days 18-19 – Noosa
If being surrounded by tropical greenery and beautiful beaches is your cup of tea, you'll love Noosa! We'll hike through National Park to lookouts boasting incredible views over Noosa's spectacular coastline, stopping off to spot amazing Australian wildlife along the way. Your hostel has it all; chill by the resort pool or enjoy a few cold ones at the bar. Anyone fancy a game of beer pong?
2N Noosa
2 Breakfast, Sausage Sizzle
Includes: Beach & Sunset, Headland Coastal Walk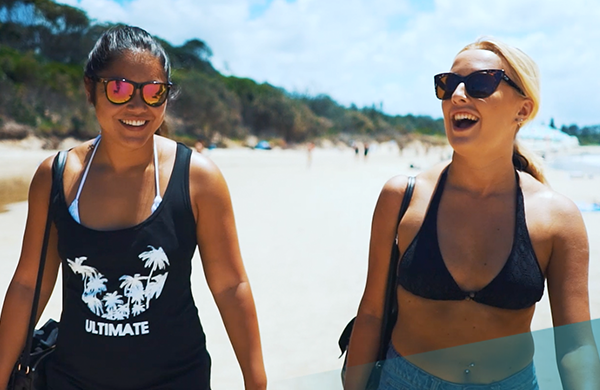 Days 20-21 – Rainbow Beach
This morning, we arrive at Rainbow beach, the gateway to Fraser Island. We'll check into our hostel and head out for a short hike to Carlo Sand Blow, a unique sand mass where you can watch the sunset over the southern tip of Fraser Island! Here you'll get the opportunity to view the resident pod of wild dolphins as they feed. You can also choose to buy some fish ($5) and enter the knee deep water in the marina to feed the dolphins. The rest of the day is yours to chill on the beach, explore Rainbow or relax at the hostel. This evening you'll receive a safety briefing at our hostel, ready for your Fraser Island adventure the following day!
2N Rainbow Beach
Includes: Sand Blow Walk, Dolphin Encounter, Fraser Island Orientation
Days 22-24 – Fraser Island
Welcome to World Heritage listed Fraser Island, the world's largest sand island! You'll be spending the next few days on this island paradise, exploring sand dunes by 4×4, driving through lush rainforest, swimming in crystal clear lakes, spotting rare Aussie wildlife and hiking to headlands for incredible 360 views of the island. At night, we'll set up camp at our own private campsite just metres from the beach. After an epic few days on Fraser Island we return to Rainbow beach for the night. But the adventure doesn't stop here! Next stop: Town of 1770
2N Fraser Island
2 Dinner, 3 Lunch, 2 Breakfast
Includes: Indian Heads lookout, Champagne Pools, Beachside Camping, Lake McKenzie, Lake Wabby & Eli Creek, Drive 4×4 on the island ($15 insurance levy)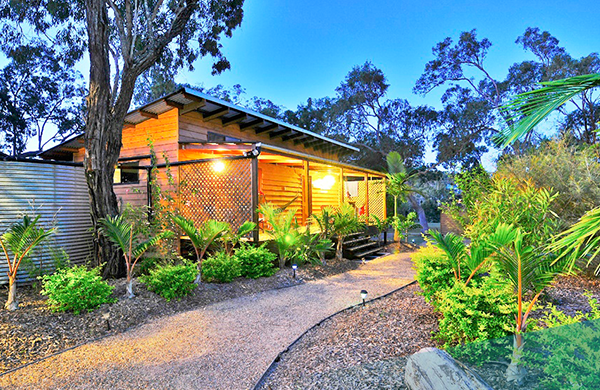 Days 25-27 – Town of 1770
This evening, we arrive in the small coastal town of 1770, named after the second landing sight of Captain James Cook. We'll check in to our accommodation, spark up the barbie and gather around the fire pit. Keen to explore the area? Join 1770's famous scooter tour of the town; get tattooed up, put on a leather flame jacket and channel your inner biker (add-on). This evening, we'll hop on the bus, waking up in Airlie Beach!
2N 1770, 1N Overnight Bus
2 Breakfast
Includes: Pool Day, Camp Bonfire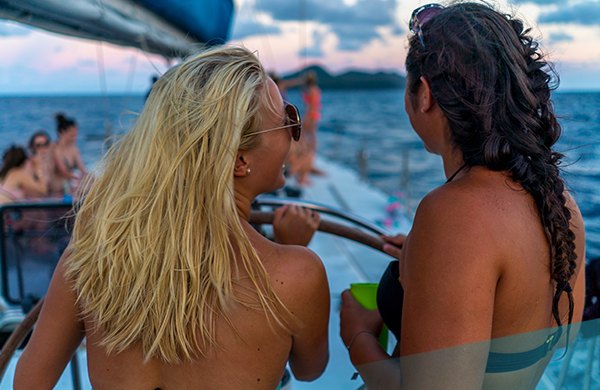 Days 28-30 – Whitsunday Islands
Today we arrive in Airlie Beach, the gateway to the Whitsunday Islands! We'll check into our hostel in the centre of town and check out the harbourfront. Soak up the atmosphere – we're in paradise! Our next few days will be spent sailing around the Whitsunday Islands. We'll snorkel in pristine blue waters, getting up close with an abundance of tropical fish and visit some of the whitest sandy beaches in the world. The views here are breathtaking! Our home for the next few days is a Maxi Sailing yacht, where we'll eat delicious food, party and sleep in comfortable beds below deck (or under the stars!) – it doesn't get any better than this!
1N Airlie Beach, 2N Whitsunday Cruise
2 Dinner, 2 Lunch, 2 Breakfast
Includes: Whitehaven Beach Visit, Sail Whitsunday Islands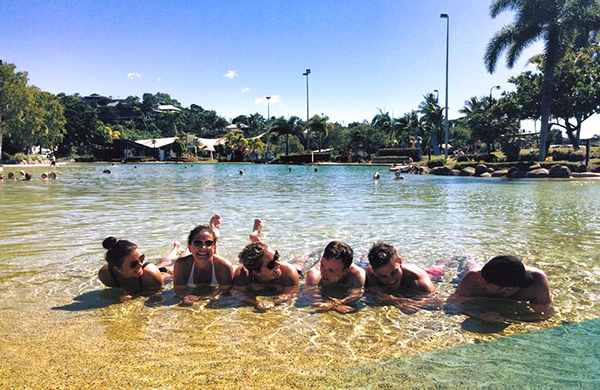 Days 31-32 – Airlie Beach
This morning, we return to the tropical bliss of Airlie beach where we'll spend the next two nights. Later on, we'll head to the bar for our post-island party; eat, drink and be merry as we reminisce on our past few days in paradise! Wander to Airlie's harbourfront lagoon for a dip, explore the surrounding national park or see the Whitsundays from the air on the Whitsunday Scenic Flight Experience (optional add-on)
2N Airlie Beach
Includes: Lagoon Hangout, Post Island Party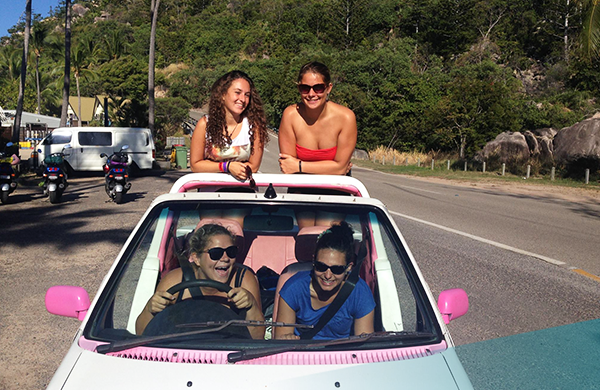 Days 33-35 – Magnetic Island
Just a short ferry crossing from Townsville, we'll arrive in Maggie island, a gorgeous tropical haven with heaps to see and do! Explore the many bays and golden sandy beaches, snorkel the pristine island waters, take the guided Fort's walk offering incredible views of the island and come up close with koalas and wallabies at our hostels on-site wildlife park (add-on). In the evening, we'll enjoy a few drinks and games at our hostel bar. Feeling adventurous? Take your new mates on a tour of the island in a 4WD 'barbie' car (available for daily hire). The photo opportunities are endless!
3N Magnetic Island
Includes: Forts Walk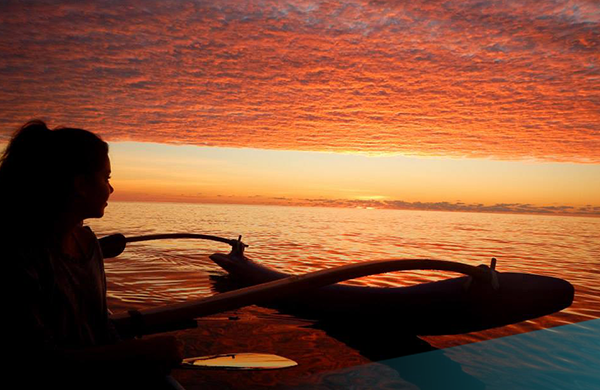 Days 36-37 – Mission Beach
This afternoon we leave Magnetic Island and travel to the beautiful beachside town of Mission beach where the reef and rainforest meet. The sunrise here in Tropical North Queensland is magical! This morning we recommend hiking into the neighbouring National Park, part of the traditional country of The Djiru Aboriginal people. Feeling adventurous? You have the option of joining our awesome white water rafting adventure in Tully, just a short distance from Mission Beach! (add-on). Mission beach is also home to Australia's highest (15,000ft!) and most popular skydiving spot – an experience not to be missed for the adrenaline junkies out there! You'll get the chance to do a skydive the following morning, before we travel on to Cairns. Pre-book your skydive (add-on) or arrange with the help of your guide as you travel, no worries!
2N Mission Beach
1 Breakfast
Includes: Explore local area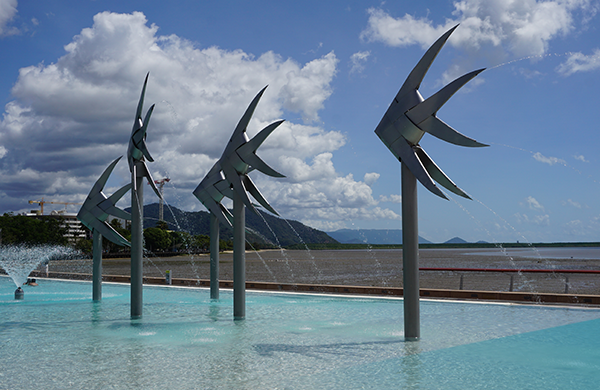 Days 38-42 – Cairns
This evening we arrive in Cairns, our final stop along the East Coast and the Ultimate backpacker destination – you are in for a treat! Our resort style accommodation is one of the best in Cairns, with luxury air conditioned en-suite dorm rooms, a huge pool and daily entertainment. Sit back, relax, and prepare for the next few exciting days! Keen to see more? Explore the rainforest on our Cape Tribulation add-ons!
5N Cairns
Plenty of adrenaline pumping add-ons available on checkout!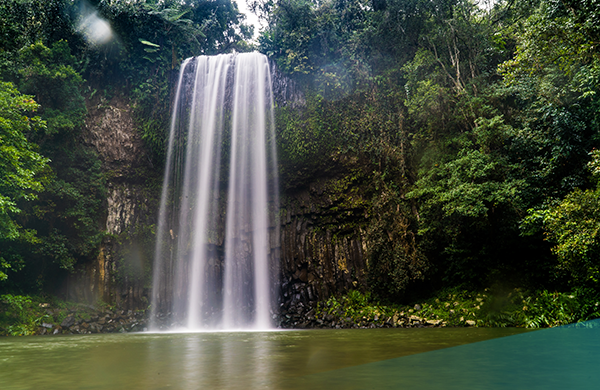 Day 39 – Atherton Tablelands
Our first adventure in Cairns takes us to the Tablelands region where we'll spend the day swimming under waterfalls, sliding down natural rock slides and spotting shy platypuses in the wild.
Includes: Guided Atherton Tablelands Tour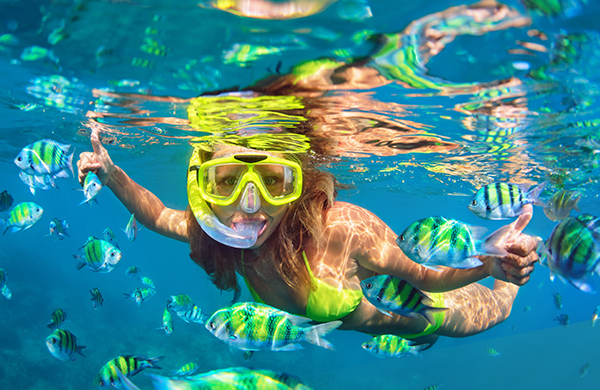 Day 40 – Great Barrier Reef
The next day, we explore the famous Great Barrier Reef. We'll cruise to the outer reef to snorkel with inquisitive Nemos, stingrays, turtles and friendly Maori Wrasse and learn all about the diverse marinelife of the reef. When we're not exploring the rainforest and reef, we'll hang out at Cairn's famous harbourfront lagoon, hit the local bars and party the night away at our hostel's very own club! On our last evening we'll take you to our favourite spot to reflect on an epic 6 weeks of Aussie East Coast fun!
1 Lunch
Includes: Great Barrier Reef Snorkel Tour ($20 levy)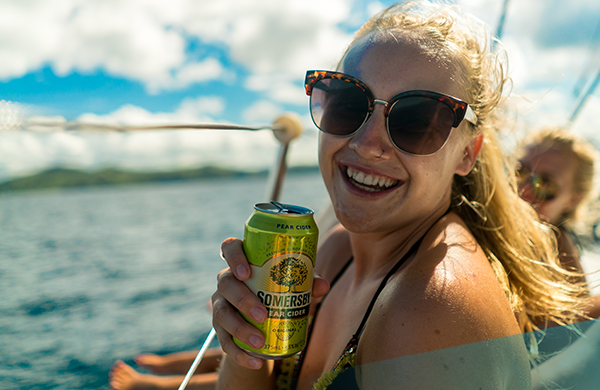 Day 43 – Onward Travel
Whether you plan to stay in the tropics, travel elsewhere in Australia or onto a different destination, your tour guide and the crew at Ultimate HQ will be here to support you and help you plan your adventure!
Includes: Onward Travel Support