Those Who Don't Skydive Will Never Fly!
There are only so many times I can hear stories of other backpackers going skydiving before booking another one myself! I was lucky enough to do a skydive in Taupo, New Zealand a few years ago but couldn't resist doing another one in Sydney. That amazing adrenaline rush is truly addictive and I'd heard about how good the Sydney skydive is, with amazing views of the coastline. Here's why skydiving is one of the best things you'll do on your gap year…
Getting ready
Skydiving over beautiful Wollongong is a memory that will last a lifetime. The views of the coastline were as breathtaking as I knew they would be, reaching as far south as Manly, and the feeling of jumping out of a plane at 4,000 meters was incredible. It all took my breath away!
It was Friday morning and time for me and my best friend to go skydiving. It was her first time skydiving and she was surprisingly calm. Maybe she'd heard from me how the feeling of flying takes over from being scared. We just couldn't wait to jump! The bus picked us up from WakeUp hostel in Sydney and drove us to the site of the skydive, Wollongong, only one hour away from Sydney.
Once we arrived, we got assigned to one of the crew at Skydive Australia who gave us a safety briefing, and gave us our skydive overalls to wear…sexy! I was jumping with a Swedish skydive instructor who had been jumping for almost 23 years – what a job! He was great and made me even more excited to jump.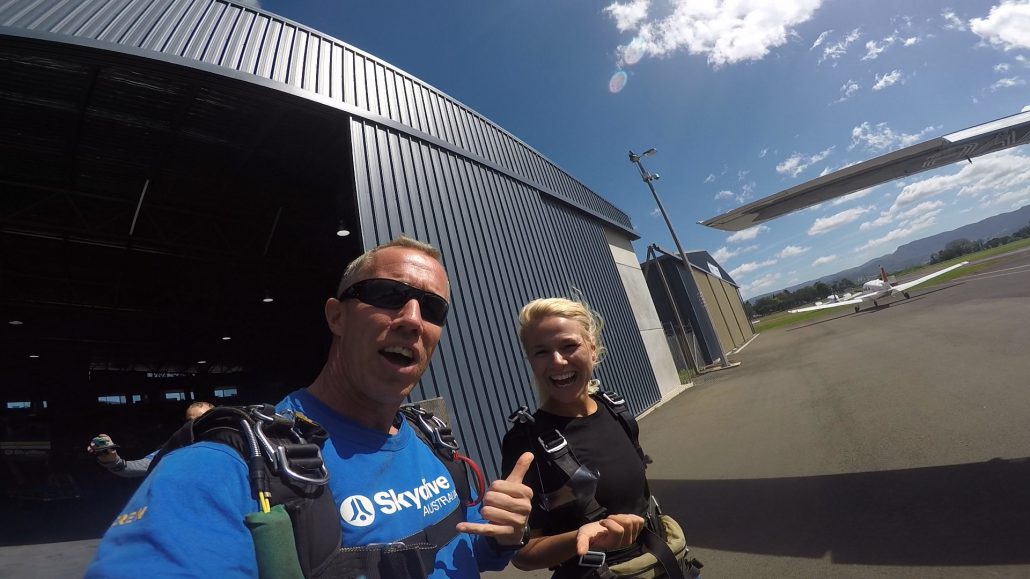 Up, up, and away
It doesn't really hit you that you'll be jumping out of a plane at 4,000 meters until you're actually up in the air and the plane just keeps going higher and higher! After 15 minutes we looked out from the window and realised how high it was! It was time to open the door and start jumping! The door on the plane lifted and there was a light that turned from red…to amber….to green – AND JUMP!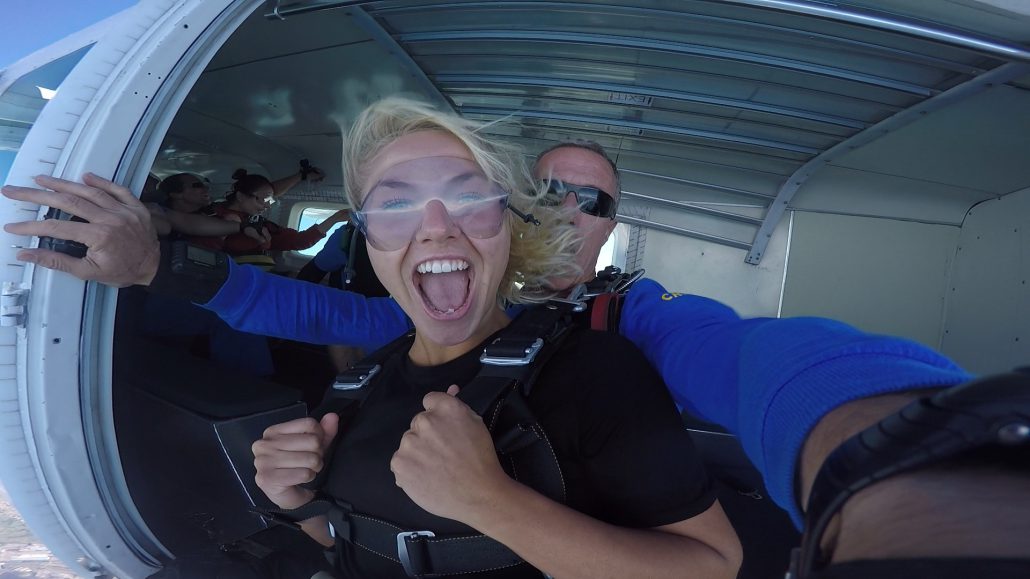 Now I'm freeeee, free fallin'!
Since they're such different feelings, it's hard to tell people if the free fall or parachute part was best. When I first jumped I had that 'OMG' experience – I had no control and no time to think anything apart from 'WOW..this is amazing!' It is an absolutely breathtaking experience and one unlike any other! Most people think it feels like falling, but I would describe it more as flying. It really a unique and incredible moment.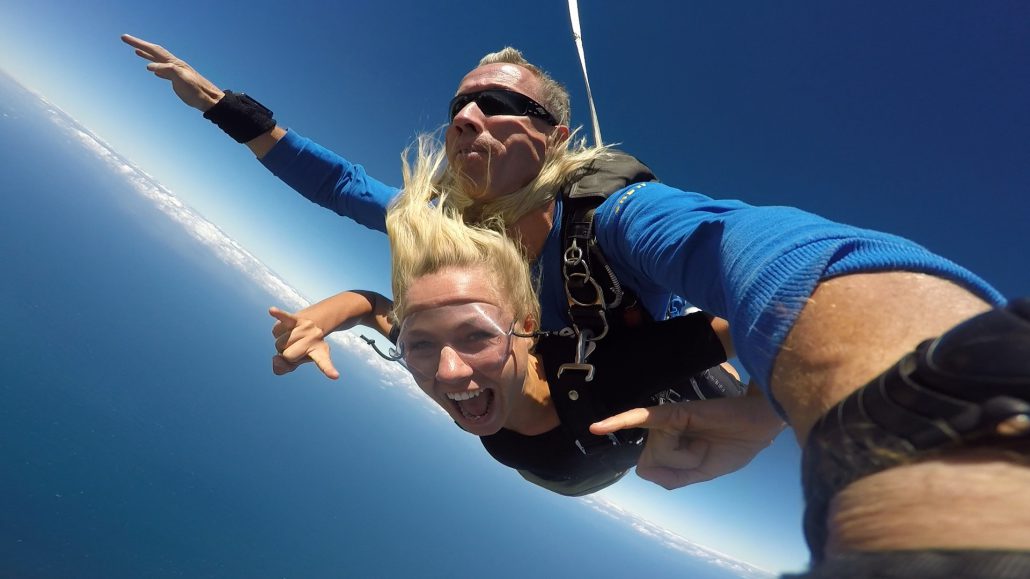 Cruising back down
After around 45 seconds of free fall that literally flies by, the parachute opened and we started drifting through the sky. This part is more relaxing and I had more time to enjoy the beautiful views over the coastline. After taking a minute to relax from the free fall adrenaline rush, my instructor asked me if I wanted to take over the control, to which I of course said yes! He taught me how to pull left to spin left, right to spin right, and push hard down to slow down (which I did just once to try as the rest of the time I wanted to go as fast as possible)! I asked my instructor to take over the control again a couple of times – it's intoxicating and just so good! Straight after landing, I just wanted to do the whole thing again!
An unforgettable experience
Knowing we were in good hands made the whole experience even more enjoyable. We both had really great instructors who had so much experience, not only in skydiving, but also in helping people prepare for what's going to happen, what to expect when jumping and also what to avoid. In my case, I told him to make this jump as crazy as possible, which I never will regret!
The good news is that whilst it's hard to remember a thing about the free fall, as it all happens so quickly, they film the whole thing. I bought the video and photo package so I can go back through the pictures and re-live my jump!
Life is either a daring adventure or nothing…Keep calm and go skydiving!
There's only so much I can do to explain to you how amazing skydiving feels. So I guess the only way to truly understand the feeling is to do one!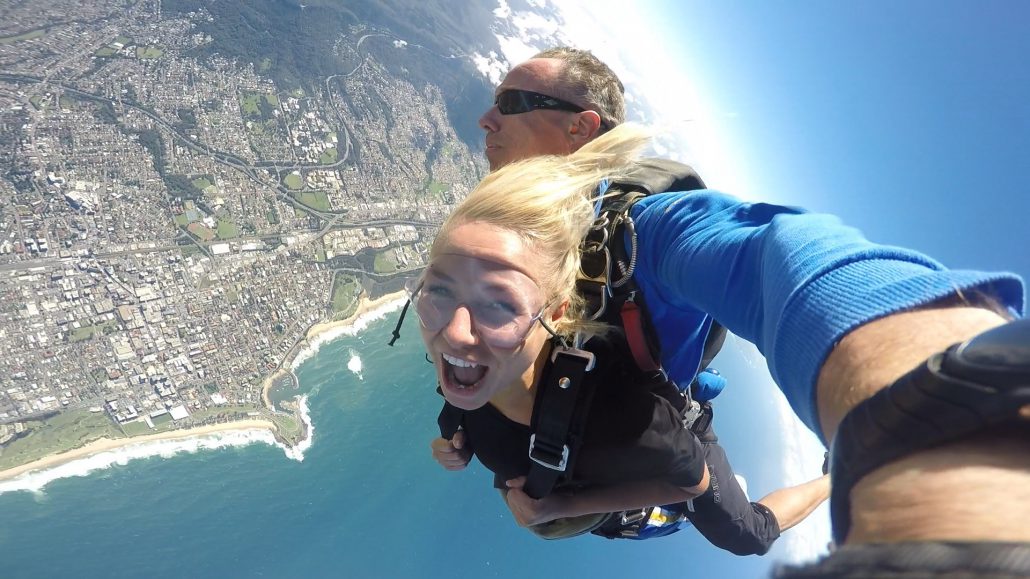 https://www.ultimate.travel/wp-content/uploads/2017/03/Felicia-Skydive.png
315
851
Felicia Lindqvist
https://www.ultimate.travel/wp-content/uploads/2015/01/logo-300x94.png
Felicia Lindqvist
2017-03-28 16:59:17
2018-05-01 18:24:57
Why Skydiving Is A MUST DO On Your Gap Year