Ultimate Thailand – Island Explorer
Get ready for the ULTIMATE Thai island hopping experience exploring the most iconic & breathtaking spots of the mainland, and East & West Thai islands. Make unforgetable memories with new mates in Thailand's most beautiful locations!
The Highlights
Explore the very best of Thailand; From temples and nightlife in Bangkok, hidden rafthouses in the Thai jungle and stunning beaches on the islands! Travelling on the mainland and island hopping between four paradise islands, you'll visit incredible destinations and have the experience of a lifetime!
What's the Deal?
This tour includes your travel from Bangkok to Koh Samui, a fun and experienced Ultimate guide, 15 nights accommodation, heaps of awesome activities and some meals. You'll be travelling with your group & guide by train, ferry, coach, tuk tuk & more. This trip is perfect for solo travellers and groups!
Ultimate Guides
Our awesome Ultimate guides will be hopping between the Thai islands with you from start to finish and will be on hand to help you with anything you need along the way. Our guides are professional, first-aid trained and passionate about giving you the best experiences in the places we travel to!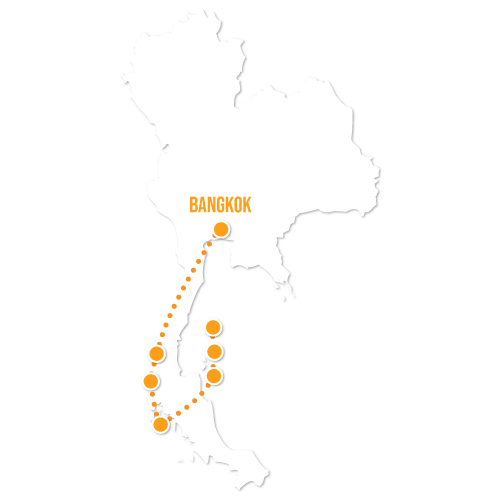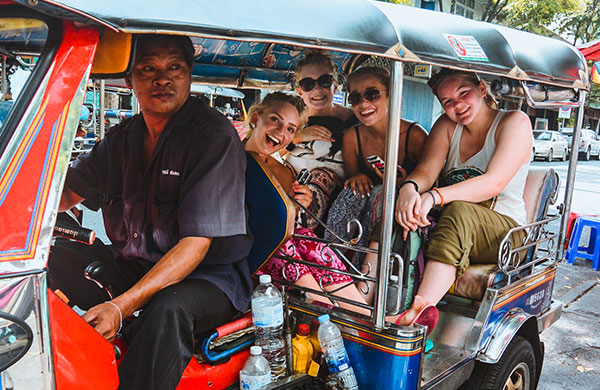 Day 1 – Arrive in Bangkok
Welcome to the land of smiles! When you arrive at the airport our driver will meet you and drive you to our accommodation in the heart of Bangkok right near famous Khao San Road! Get settled in then meet the rest of your group and your Ultimate Thailand group leader this evening at our welcome dinner before heading to our favourite Bangkok nightlife spots.
1 Night Bangkok
Welcome Dinner
Includes: Airport Transfer, Bangkok Party Night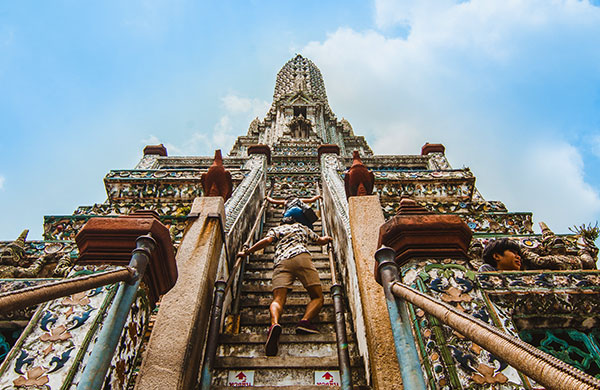 Day 2 – Our Bangkok Bucket List
Today your tour leader will show you some of the city's highlights including Bangkok's magnificent temples, river and markets. Explore the Dawn Temple 'Wat Arun', riverside markets and the amazing Reclining Buddha Temple 'Wat Pho'. This evening we'll make the most of Bangkok's vibrant nightlife with another fun night on the town!
1 Night Bangkok
Includes: Bangkok Culture Tour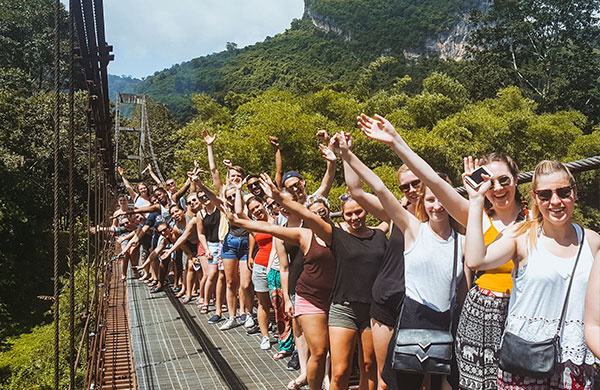 Day 3 – All Aboard the Night Train
Today we travel to the jungle! Enjoy a morning of relaxing – sleep in, go exploring or head to Bangkok's famous floating markets. That evening we'll catch the overnight train to Southern Thailand; grab some dinner and get settled into your comfy bed on the train waking up refreshed and ready to explore Khao Sok National Park.
Overnight Sleeper Train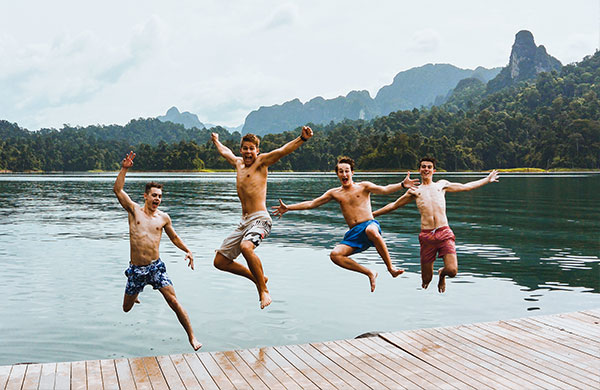 Day 4 – Welcome to the Jungle
Today we travel by longtail boat to our jungle getaway hidden deep in the rainforest of Khao Sok National Park where we'll be staying in floating rafthouses. Grab a kayak, swim in the lake, chill on the pontoon and take in your amazing surroundings! This evening we'll get together for a tasty Thai dinner with fish caught for us fresh from the lake.
1 Night at Floating Raft Houses
Lunch & Dinner
Includes: Swimming / Kayaking, Longtail Boat Cruises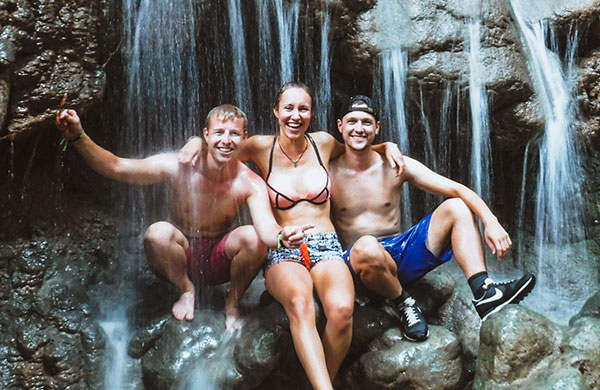 Day 5 – Khao Sok Jungle Village
Wake up in your bamboo rafthouse to the beauty and tranquility of Khao Sok Lake at sunrise before getting ready to explore the jungle! Spot monkeys in the trees and enjoy breakfast on the lake before heading out on a trek through the jungle, stopping off to explore hidden caves (seasonal) and visiting local waterfalls. This afteroon, we'll travel to our next stop, Khao Sok Jungle Village where we'll check out our favourite Thai reggae bar for dinner and drinks.
1 Night at Jungle Village Resort
Breakfast & Lunch
Includes: Longtail Boat Cruise, Monkey Temple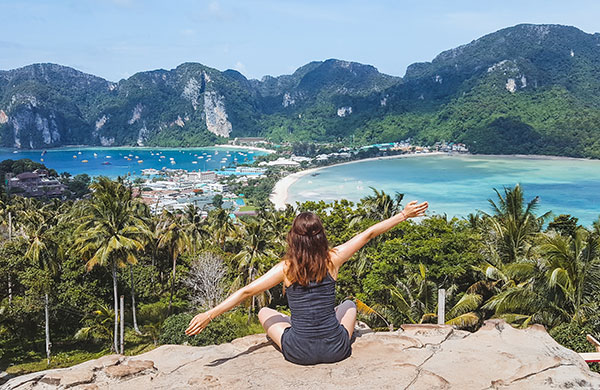 Day 6 – Koh Phi Phi
Today we travel south to the beautiful island of Koh Phi Phi for two nights of tropical island fun! We'll take you to our favourite beach bars and check out the world famous beach fire shows!
1 Night Koh Phi Phi
Lunch
Includes: Sunset Lookout, Beach Party & Fire shows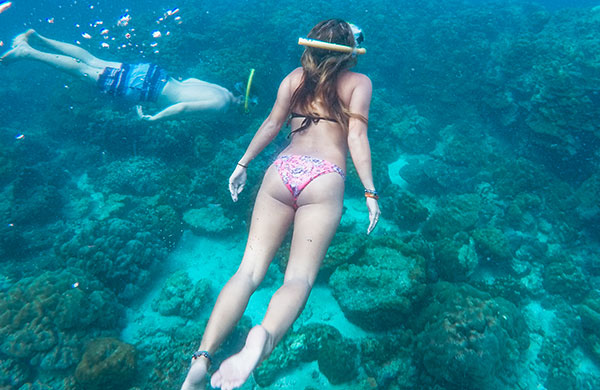 Day 7 – Explore Koh Phi Phi
Koh Phi Phi is known for it's stunning turquoise waters and colourful marinelife so today we'll explore the island on a private boat tour! We'll stop off to swim and snorkel at some of the islands best limestone reef spots. That evening we'll hike to the famous Koh Phi Phi viewpoint for stunning views of the island at sunset before heading to the beach for dinner, music and drinks.
1 Night Koh Phi Phi
Includes: Private Boat Tour of Phi Phi Islands, Snorkelling/Swimming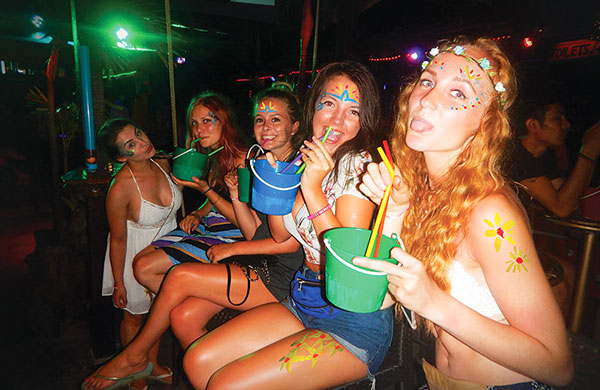 Days 8-9 – Koh Phangan
Our next stop is the famous party island of Koh Phangan. Our island accommodation is right near the beach; make the most of relaxing on the beautiful white-sand beaches or check out some of Koh Phangan's awesome island activities during the day. We'll spend our evenings seeing some amazing sunsets and enjoying the island's nightlife!
2 Nights in Koh Phangan
Includes: Pool, Beach & Theme Parties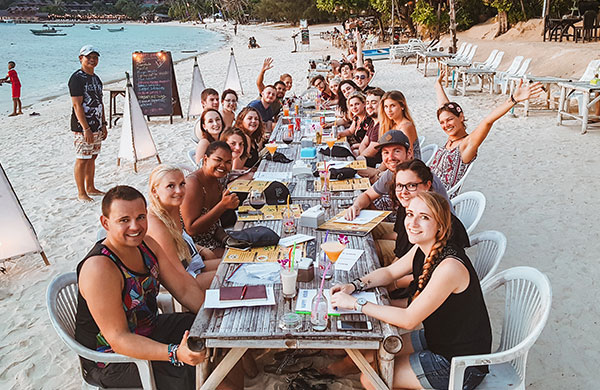 Day 10 – Sun, sand, sea & coconuts
Today is yours to spend as you choose. Relax by the pool at your resort, head to the beach for a swim, go kayaking, get a massage or explore Haad Rin on the other side of the island. Your guide can also arrange day activities for you such as Muay Thai boxing, cooking lessons and yoga. This evening we'll meet up for dinner at one of our favourite island restaurants and enjoy a few cocktails on the beach.
1 Night in Koh Phangan
Includes: Free time for beach or optional activities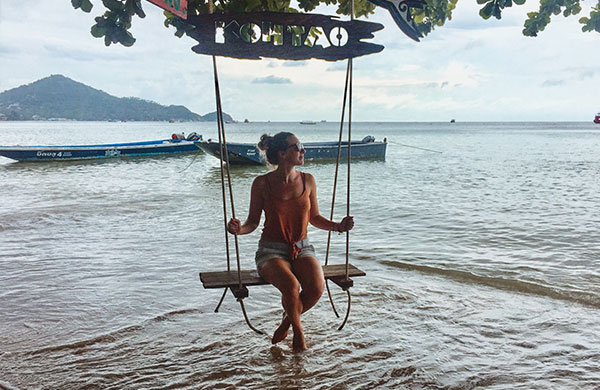 Day 11 – East Thai Island Explorer
This morning you'll be picked up from our resort in Koh Phangan and taken to Thong Sala Pier where you'll take a public ferry to Koh Tao.
When you arrive, take a local taxi to our Sairee Beach accommodation ready for the a few days in island paradise!
1 Night in Koh Tao
Includes: Transfer to Sairee Beach, Koh Tao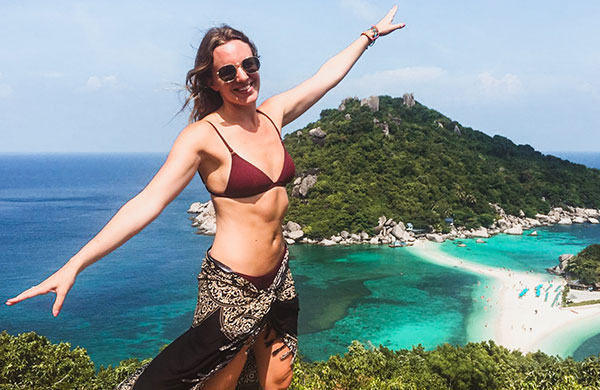 Day 12 – Koh Tao Snorkelling
Discover the incredible beaches and coral reefs of the stunning island of Koh Tao on our boat trip of the island. Our trip starts at Ao Luk, a beautiful bay with a sandy beach and beautiful coral – the ideal spot for a swim and some snorkelling! We'll explore some of Koh Tao's beautiful bays including Hin Wong Bay and Mango Bay before stopping at Koh Nang Yuan, a small private island paradise off the west coast of Koh Tao. Relax on the white sandy beach or snorkel in the crystal blue water before we return to our accommodation in the late afternoon.
1 Night in Koh Tao
Includes: Koh Tao Boat Trip
Day 13 – Explore Koh Tao
Spend this morning at your leisure before a day chilling out on the famous Sairee Beach! The sunsets at this beach are spectacular and the water is the perfect temperature for an evening swim!
1 Night in Koh Tao
Includes: Beach Day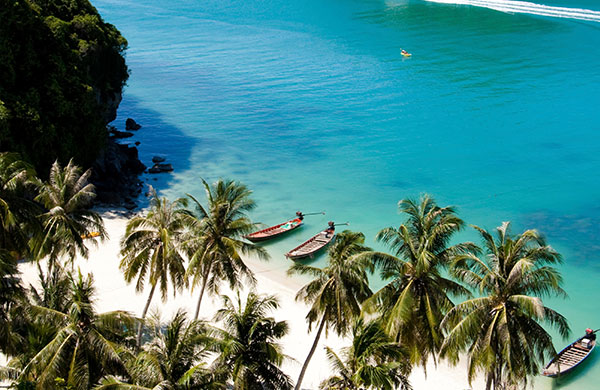 Day 14 – Koh Samui
We check out this morning and make our way to Koh Tao pier to continue our travel to the palm-fringed island of Koh Samui.
1 Night in Koh Samui
Includes: Transfer to Koh Samui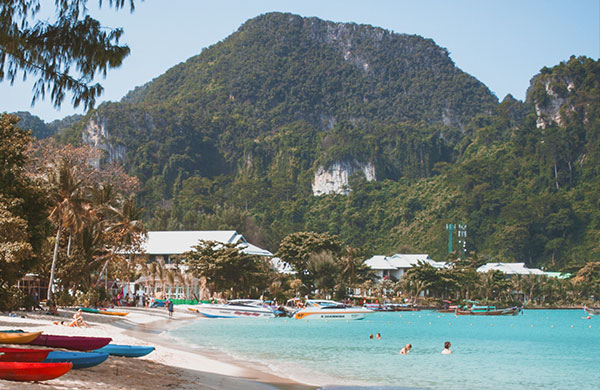 Day 15 – Explore the Island
Today, we'll explore the island of Koh Samui. Get ready for a day of excitement and entertainment as we explore local waterfalls and take on the jungles of Samui via zip-line cables! This morning, we'll travel towards the North of the island stopping off at the waterfalls of Namuang. Translating roughly to 'purple face', the falls are named after the purple-toned limestone rocks which can be seen behind the cascading water. Your guide will point out 'Namuang 2' waterfall, which is the largest on the entire island. Next up, it's time for fun in the jungle with a zip-line experience. There are four routes in total, allowing you to fly across the jungle canopy! Take time to recharge with a Thai-style lunch before returning back to your hostel.
1 Night in Koh Samui
Thai Lunch
Includes: Koh Samui Waterfall & Zipline experience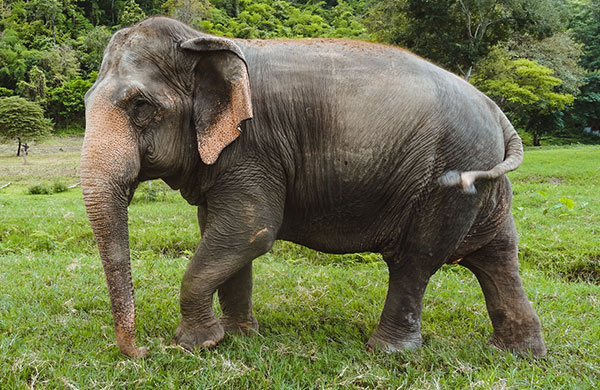 Day 16 – Say Farewell to the land of smiles!
After our amazing 16 day adventure, we'll help you make arrangements for the next leg of your trip, whether you're heading back to Bangkok, travelling north to take part in our Chaing Mai Elephant Adventure or elsewhere in Southeast Asia! If you'd like to extend your Southeast Asia adventure, join us on another ULTIMATE tour in Bali or Vietnam! Whatever your plans, we'll make it easy!
Includes: Onward Travel Support