Get Ready To Spend 14 Epic Days In New Zealand!
New Zealand is incredible. Not much more needs to be said. It has everything and more to offer to a traveller. Many people ask us here at Ultimate long do I need to see New Zealand? Well honestly, I'd say 4 weeks – about 28 days. However not everyone has this much time, so let's go with 2 weeks. If you only have 2 weeks then a good suggestion would be to choose between the North or South Islands. Both are incredible and both offer so much…I'm just glad I don't have to choose! So here's how I'd suggest you spend 14 days in New Zealand…
North Island: Auckland and surrounding area
Auckland is the main city on the North Island and definitely worth a visit! It is surrounded by volcanoes, most of which you can climb, and has parks where you can play frisbee golf! Although Auckland has loads to offer and a great night life, I would recommend leaving the city after a short while! North of the City of Sails is the Bay of Islands. Locals call it the Land of Eternal Summer. The weather there is fairly constant and a lovely warm temperature. Here you can go swimming with dolphins, hiking or visit Cape Reinga, the northern most point of New Zealand where the Tasman Sea and Pacific Ocean meet.
South East of Auckland you'll find the Coromandel Peninsula and a little bit of paradise! Here you can dig your own hot tub at Hot Water Beach (original name, I know!) and go to Narnia. Yes Narnia! Ok well actually where they filmed Narnia but still, all childhood dreams matched! In the Bay of Plenty further south there is White Island where you can visit an active volcano and walk among the sulphur and steam.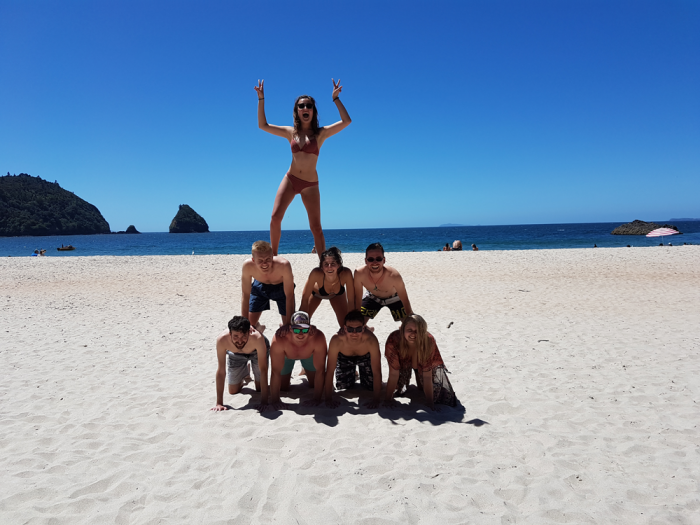 North Island: the middle
In the middle of the North Island there is Rotorua, the cultural capital of NZ, also named 'Sulphur City!…and also the smelliest place in the world. You'll know what I mean when you go there! 😉 Once you have gotten over the smell of the bubbling mud pools you can learn all about New Zealand's natives, The Maori. There is Waitomo Caves where you can go tubing through caves lit up by glowworms, nothing more to be said! Taupo is right in the middle of the island. Sporting the largest lake in New Zealand it is also the home to Mount Doom from Lord of the Rings. You can actually climb the volcano just like Frodo and Sam while doing the Tongariro Alpine Crossing (a must do while you are here). Taupo is also an awesome spot to do a skydive if you dare!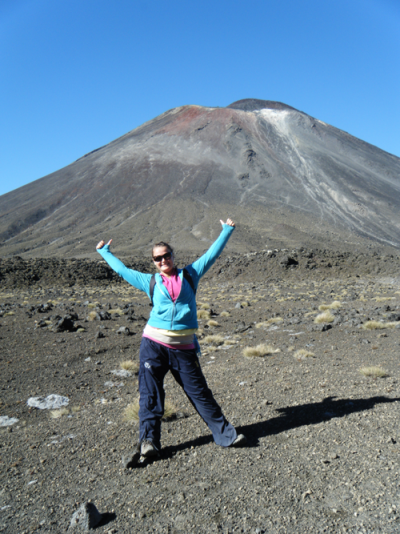 North Island: Wellington and more
In the south of the North Island you've got some amazing places to do a spot of crazy white water rafting in the mountains. Then right in the south is the country's capital, Wellington. While here in this sleepy chilled out city definitely check out the Museum of New Zealand, it has everything from history to props from the Lord of the Rings films. There are lots of other museums and art galleries here along with some amazing botanical gardens and a gorgeous view from the top of Mount Victoria.
Side note: If you are doing the North and South Islands then the ferry journey between the two across the Cook Strait will be one of the highlights of the whole trip, so grab your jumper and enjoy the view!
South Island New Zealand
The South Island is about twice the size of the North and certainly packs a punch! The top of the South Island starts with Nelson where you can take a calf burning (but well worth it) steep stroll up to the most central point of New Zealand. West of Nelson is the Abel Tasman National Park. Here you can get a boat to take you round to one of the incredible beaches, drop you off and then you make your own way back on foot. With hardly anyone around you'll have beaches and forest to yourself, not to mention stunning views and incredible wildlife.
Heading south you'll get to Westport, a super laid back surf town. Time to don the wetsuit and catch some waves here! On the opposite east coast you have Kaikoura, this is a marine wildlife paradise. You can swim with dolphins and catch the passing humpbacks during their migration. A bit further down you have Christchurch, although recently devastated with numerous earthquakes its still a beautiful city, earning its name of The Garden City. Its not all beautiful parks though, you can learn all about Antarctic expeditions or go shopping at a mall made out of shipping containers!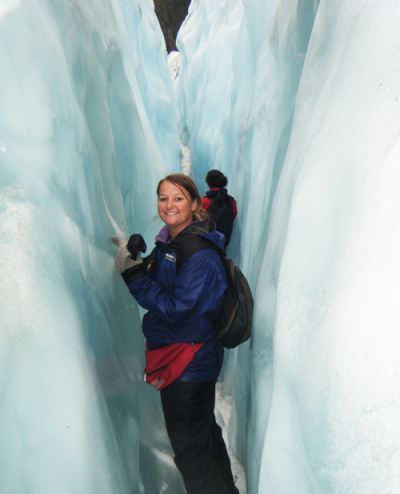 Heading over to the west coast (through Arthur's Pass, google it and you'll just want to go!) you get to the Fox and Franz Josef Glaciers. Here you can hike on some of the fasting moving glaciers in the world meaning you'll have to carve your own path through, or splash the cash and get a helicopter ride to the top and land on the ice!
Whilst heading south from here you'll spot the highest mountain in NZ, Mount Cook, where Edmund Hillary practiced for his famous Everest summit.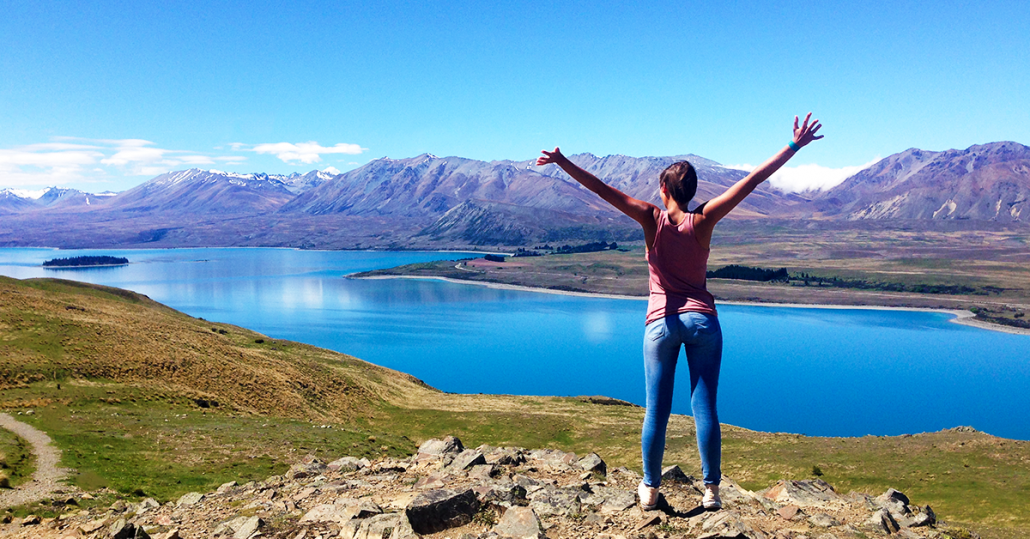 You will soon hit Queenstown, the adrenaline capital of the world! You could spend weeks here with so many activities that change with the seasons. You could go skiing, skydiving, jet boating, hiking, bungy jumping, zip-wiring, white water rafting, rock climbing, the possibilities are almost endless. If extreme sports aren't your thing then its ok, Queenstown boasts some amazing bars and also maybe the best burger joint in the world, Fergburger. Speak to anyone who has been to Queenstown and I guarantee they will have eaten one if not seven.
If you're not satisfied there then the must see place to see on the South Island is Milford Sound. Words can't describe the beauty of this place, you have to see it.
So there it is plenty to fill two weeks of your time in New Zealand and this has only scratched the surface there is more then enough to fill lifetime. Which would you chose? The North or the South? I'm glad I don't have to choose, perhaps a piece of advice – Go for longer and see all of it!
Thinking of travelling to New Zealand? Check out Ultimate NZ to get you started and get in touch to chat about your plans!
https://www.ultimate.travel/wp-content/uploads/2017/02/New-Zealand-2.png
315
851
Abbie Redman
https://www.ultimate.travel/wp-content/uploads/2015/01/logo-300x94.png
Abbie Redman
2017-02-17 08:00:49
2017-12-04 17:01:12
How To Spend 14 Days In New Zealand