Vietnam is still Southeast Asia's hidden gem; A beautiful country with heaps of culture, welcoming locals and so much to explore. Vietnam's ancient traditions are still such an important part of the culture so when you travel to Vietnam means seeing 'the real Vietnam'.
I know the title of this blog is a tad dramatic but there is reasoning behind the madness! Here are some reasons I think you should travel to Vietnam sooner rather than later:
Vietnam is one of the only Southeast Asian countries that hasn't been overly changed by tourism; It's a country true to it's roots and ancient traditions so despite welcoming backpackers and holidaymakers, tourism hasn't affected Vietnam the same way it has other countries in Asia.
Vietnam is becoming more and more popular as a holiday destination and it's inevitable that some of it's culture (from a visitor's perspective) could get lost alongside the travel agencies, western food restaurants and pubs over the years. I believe now is the time to go if you want to experience Vietnam in all of it's traditional glory!
Visiting a hill tribe in Sapa to explore the rice fields for example will allow you to experience Vietnamese family traditions without hoards of other tourists. You might have heard of Halong Bay. It's a UNESCO World Heritage site and was featured in James Bond's "Tomorrow Never Dies". Halong is a magical place! Cruise around the limestone casts on a traditional Vietnamese junk boat, sipping on a cold one whilst watching one of the most amazing sunsets you'll ever see! Most people only stay for one night, but if you have the time spend another night on one of the islands hidden in the maze of Halong. How often do you get a chance to wake up on a private island?
Because any time of year is a good time!
You can visit Vietnam any time of the year because the weather is mostly good throughout. This place is so big, there are 3 different weather zones and temperatures change throughout the country. Whilst the south is always hot and humid, the north can get a bit cooler (still approx 15-22 degrees around Hanoi, a little colder in the mountains) between November and February. Whichever month you choose to travel, you know you'll be getting sunshine in some part of the country!
Vietnamese tradition focuses on harmony and humanity and as the locals live their lives through these traditions it's not surprising that they're so welcoming and friendly. Vietnam hasn't been spoilt by rowdy, pissed up tourists shouting at locals trying to be understood so locals are patient and are happy to have us there! You'll be smiled at and left alone most of the time, unlike some other countries where you'll be hassled into buying souvenirs, food, puppies..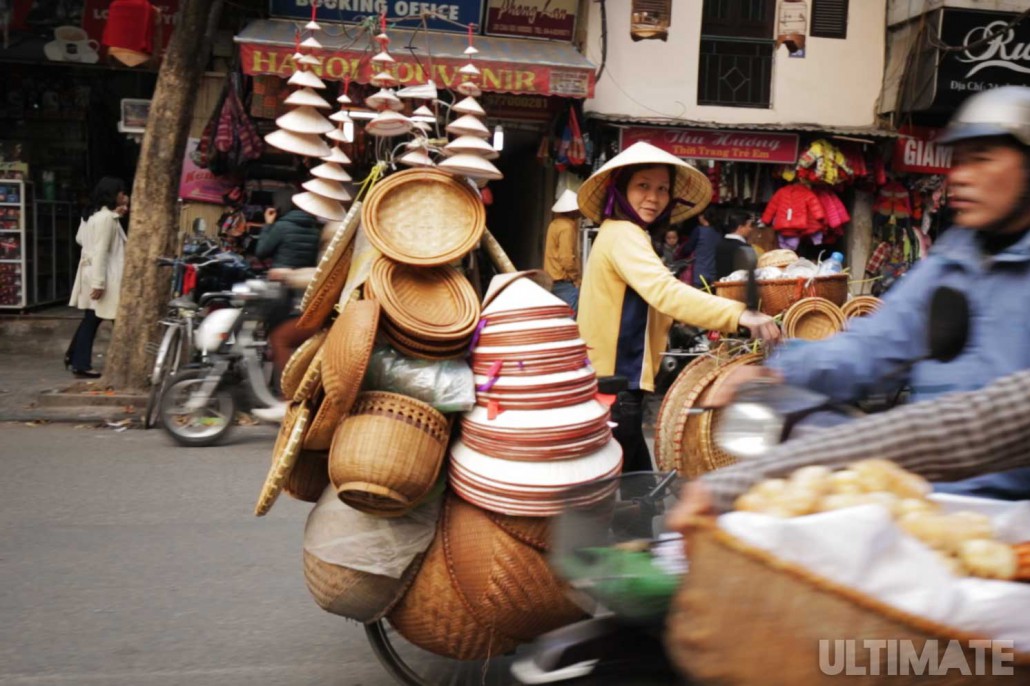 Safe with a side of adventure!
Travelling in Vietnam is generally safe and backpacker friendly. You'll be welcomed and helped by locals and you'll bump into lots of other travellers along the way. Despite Vietnam becoming a more popular country for backpackers, when you're there, you'll still feel like you're on an adventure in an exciting exotic place. Vietnamese is the main language here however lots of people speak English so making yourself understood is easy too (no more ordering random things of a menu you can't read hoping you've just ordered something you can digest)!
Food is Fresh
&

Authentic
Wherever you travel in Vietnam, you'll be able to try local beer and eat authentic and traditional Vietnamese food. Most families cook outside their house, so sometimes you might even find yourself crashing a family dinner! Ingredients are fresh off the fields and dishes are cooked in front of you. Grab a small plastic stool in the street and mingle with the locals – you know you're onto a winner when the locals are eating the same dish as you!
Food is a big part of the culture here (and it should be – it's amazing!) so get involved before they start building McDonalds on every corner!
You can live like a King on next to nothing in Vietnam. A beer will set you back around $1 (their 'fresh beer' is about 30 cents!) and if you want to travel on the cheap you could easily budget $10 a day for all of your food. Accommodation is also mega cheap so you'll be able to afford to travel for longer – result!
Because the reef is still beautiful
Unless you've been there, Vietnam isn't normally the first place that springs to mind when you think about snorkelling however Hon Mun Marine Park, just off the East coast of Vietnam is home to some of the world's most beautiful coral and varied marine life. Heaps of diving and snorkel day trips head out to the marine park daily from Nha Trang, Vietnam's most popular beach town. The coral in this area hasn't taken a beating quite like other reefs in Southeast Asia so you can still enjoy snorkelling in beautiful surroundings. Learning to dive is also cheap as chips in Vietnam!
See the rest of Southeast Asia!
Vietnam's got some pretty cool neighbours including China in the North and Laos and Cambodia to the West so if you're planning a Southeast Asia trip, Vietnam is a great starting point! You could travel overland to countries such as Thailand and Malaysia or hop on a flight over to Indonesia..Once you're in Southeast Asia the choices are endless!
So will an increase in tourism change Vietnam for the worse? Vietnam is a beautiful country with ancient traditions and customs that are valued by the Vietnamese people. In my opinion, Vietnam will adapt to an increase in tourism but the important traditions that set Vietnam apart from other Southeast Asian countries will live on for a long time yet! Still, if you've got the choice to visit Vietnam and see this amazing country now, at it's best, then why not?
Want to know more about Vietnam? Check out our Infographic!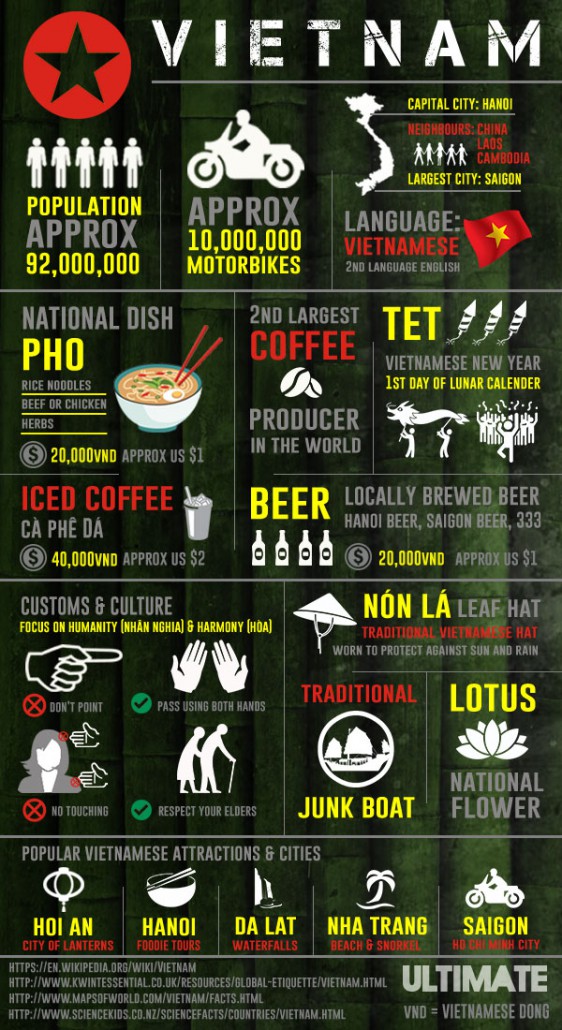 Planning a trip? Check out our 13 day Ultimate Vietnam tour and get in touch for help organising your trip! Check out our videos for Ultimate Thailand and Ultimate Vietnam to see for yourself how amazing SE Asia is!
'Like' us on FB for travel inspiration, photos, videos and more blogs and follow us on Instagram (ultimate.travel) for travel pics!
https://www.ultimate.travel/wp-content/uploads/2015/11/Vietnam.jpg
315
851
Bernie Augstein
https://www.ultimate.travel/wp-content/uploads/2020/04/Ultimate-Logo-2020-Clean-v2.png
Bernie Augstein
2015-11-18 15:49:46
2019-08-30 13:31:39
Travel to Vietnam before it's too late!