If you're anything like us here at ULTIMATE, you love a bit of thrill seeking during your travels. There's no better way to get your heart pumping than rafting through river rapids or jumping out of a plane at 14,000ft. If you're a bit of an adrenaline junkie here are some activities to cross off your list this year!
Here are some of our experiences with some amazing (pretty terrifying) adrenaline activities:
Skydive – (Ultimate recommends Mission beach, Australia)
"What a feeling! Falling through the sky at 14,000ft with someone and a parachute strapped to your back doesn't happen (to most of us!) every day! It's without a doubt one of the most amazing feelings in the world and I'd recommend it to anyone! For me the scariest part was waiting to jump in the plane beforehand. Luckily I was the first out and as soon as that door was opened, I was ready to jump! The free fall was such an incredible feeling! It almost feels like you're floating rather than falling. Once the parachute has opened (aaannnd relax!) you get to enjoy 5 minutes of floating down, checking out the beautiful scenery and thinking about what you've just done! Like most things great in life the whole experience goes way too quickly so get the photos and videos to watch back!" – Holly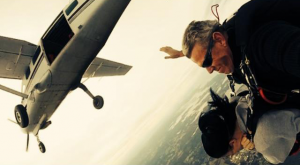 Canyoning & Abseiling (Ultimate recommends Da Lat, Vietnam)
Da Lat in Vietnam has some of the worlds most beautiful waterfalls. You can hike through the jungle to see the waterfalls from a far or if you prefer you can abseil straight down them!
"You hear stories from people on the way and you might even see some of their pictures, yet you can't quite figure out what to expect from 'abseiling a waterfall'. The truth is: it's freakin scary, but I loved it so much, I have done it 3 times now and would do it again anytime. The worst part is standing right on the edge of the cliff, waiting until it's your turn and seeing the horrified look in everyone's face in front of you while you are trying to build up the courage to just do it. You're basically volunteering to face death several times on that one day – kinda a dumb thing to do if you think about it. Though, once you've taken the first steps down the cliff, the water is pounding against your legs to a point where you are about to slip any moment now, the adrenaline is rushing through your body and you start to feel invincible. You finally let go of the ropes, take the plunge into the river beneath you and already think: I need to do that again!" – Dirk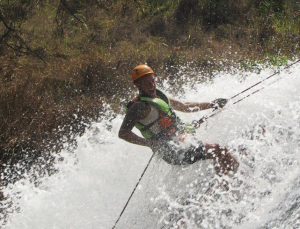 Bungy Jump (Ultimate recommends Cairns, Australia & Queenstown, New Zealand)
Could you jump off a ledge with a Bungy cord strapped to your ankles? Bungying is one of those things that you don't just do the once! Once you jump you can't stop!
"I was shitting myself for weeks leading up to the jump. We arrived at the site on the day and it was beautiful and scary at the same time.  It is set in a valley so you jump from a cable-car which is connected by cables to the mountains on either side, it is 134 metres from the ground.  Inside the cable-car the floor is perspex so you can see right down to the bottom of the valley that you are jumping in to!  They get people to jump in weight order so there were a few bigger guys before me – this calmed my nerves a bit because they all came back up saying how amazing it was (and none of them died!).  It came to my turn and I sat in the chair to have all of the safety stuff put on me.  As this was happening the guy who had jumped before me was being pulled back up after his jump, he looked terrible.  His legs had turned to jelly and he was crying – this didn't help me!  I shuffled over to the ledge and prepared to jump, I kept telling myself not to make any noise because I was afraid I would squeal or sound really stupid.  It turns out it's impossible to not make any noise and I think I made a kind of mooing sound like a cow!  The freefall is around 9 seconds and this was one of the most amazing feelings of my life – like nothing else I have ever experienced.  When I bounced back up and started to head down for the second time it felt for a couple of seconds like I was hanging in mid air – I actually instinctively swang my arms around and tried to fly!  I bounced a few more times and then pulled the chord so I was in a sitting position and enjoyed the relatively leisurely ride being pulled back up to the top.  As soon as I got back up there I turned to my mate and said "we have to do this again – higher!" – Danny
White Water Rafting (Ultimate recommends Tully River, Australia)
"Rafting was an incredible experience! I did the 'Xtreme rafting' on the Tully River in Northern Queensland. I had no idea how much fun it would be but I can safely say it's one of the best things I've ever done! I felt like I was on the best roller coaster in the world, blasting down the rapids,  twisting and turning all the time – it's definitely not for the faint hearted! The staff and instructors were brilliant providing making us feel as safe as possible with non stop laughs along the way. They really do try and make it the best experience possible for you. The trip I did was a day trip which I'd definitely recommend as you get lots more rafting in and when you've started you won't want it to end! The best part of the day for me was blasting down a rapid with the instructor shouting "Back Paddle, back paddle" then bumping into rocks and dropping down the rock face below you. It was a crazy amount of fun and I'd recommend it to anyone!"  – Max
Shark Cage Diving (Ultimate recommends Port Lincoln, Australia)
Port Lincoln in Australia is one of the only places in the world you can experience cage diving with Great White sharks! You'll be lowered into the ocean with only a metal cage between you and great whites. Put it this way…it's the closest you'll ever come to a Great White Shark without being eaten! Game?
"Duunnnn Dunn… Duuunnn Dunn… I'll never forget the day I encountered the real life Jaws! Diving with sharks was an item on my lifetime bucket list, and although I was super excited, I couldn't have been more terrified. Being in Australia, you always fear that you may see a shark in the water, and here I was choosing to be with one! This being said I flew down to Port Lincoln for the weekend, one of the few places in the world that you can cage dive with Great Whites. Although I was quite nervous, the staff couldn't have been better and made me feel really comfortable. We set off early in the morning and the next thing I knew, they were gearing me up to hop in the cage. A fun fact, rather than using bloody "chump" as they call it to attract the sharks, they used the sound vibrations of playing ACDC  – how cool is that! Peering over the side, I could already see the shadow of what appeared to be a 5m Great White. Feeling rather nervous, I took a deep swallow and hopped into the cage and there he was, Bruce smiling right back at me. Once in the water, the fear left and I was amazed to be that close to such a large creature. It was absolutely insane and definitely an experience I won't forget!" – Becca
Diving (Ultimate recommends The Great Barrier Reef, Australia & Koh Tao, Thailand)
Thailand has got some amazing snorkeling and diving spots, especially along the West coast. Kao Tao is popular for diving due to it's shallow waters and lots of coral.
"Absolutely the BEST part of my time spent in Thailand. If you're considering scuba diving, better yet getting your open-water certification, Koh Tao is THE place to do it. Not only is it one of the cheapest and most popular places to do it, the island provides some of the best dive sites in the world. Plus, it's absolute paradise. Palm trees, sunsets, beach parties – not much to complain about. And trust me when I say, there is no cooler feeling than being able to breathe underwater. My dream of becoming a mermaid was finally complete. After completing the 4-day open-water course, I could officially call myself a certified diver. I loved diving so much, I even went on to get my advanced certification with heaps of friends I met from my original dive group. Exploring a shipwreck 30m below surface, diving in complete dark with nothing but a torch, finding Nemo – doesn't get much better. Eat. Sleep. Dive. that should be the island's motto." – Becca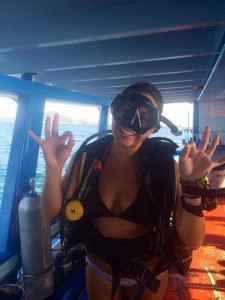 Cage of Death, Darwin, Australia
"The cage of death was such a weird yet amazing experience! Me and my travel buddy were lowered into a massive tank inside a glass cage with two of the largest saltwater crocs in Australia, William and Kate! One of the 'friendlier' crocodiles swam straight over to us and at one point it's teeth were literally 10cm away from me with just the glass between us! To make the crocodile jump up, chicken was dangled into the tank by the crocodile handler and fed to the crocs in front of us. I couldn't believe how high the crocs can actually jump out of the water and seeing how powerful their jaws are as they snapped down on the chicken was unbelievable. Being so close to such big crocodiles was definitely a once in a lifetime opportunity! If you're travelling to Darwin, the Cage of Death is not to be missed!" – Holly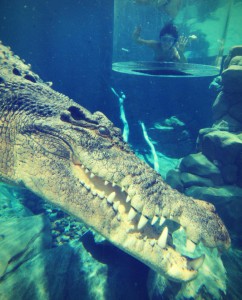 Done a Skydive? Been tubing in Thailand? Share your experiences with us in the comments below! If you're interested in any of the above just get in touch – we will give you the details!
https://www.ultimate.travel/wp-content/uploads/2015/04/adventure-activities-blog.jpg
700
1200
Bernie Augstein
https://www.ultimate.travel/wp-content/uploads/2020/04/Ultimate-Logo-2020-Clean-v2.png
Bernie Augstein
2015-04-22 18:24:18
2019-08-30 13:47:19
ULTIMATE's Top Adrenaline Activities!