Backpackers Ask: Is It Safe To Travel To Southeast Asia?
From the hustle and bustle of the legendary Koh Phangan Full Moon Party, to canyoning in Da Lat and cliff jumping in Bali, it's no surprise Southeast Asia is a popular backpacker destination – attracting millions of visitors every year. But with horror stories posted online of injuries and scams, you may be asking yourself: Is it safe to travel to Southeast Asia? Read our handy guide of do's and dont's so you can make the most of exploring this amazing corner of the world!
DON'T try to cut costs
When you're having the time of your life travelling, it can be tempting to prolong your trip as long as possible by stretching your dollar and spending as little as possible. But sometimes it's worth shelling out a little extra dough. A lot of people who end up injured in Southeast Asia go on tours whose focus is less on safety and more on profit. Some providers aren't as safe as your home country would be, so when you're planning adventurous excursions, go by the company's reputation and not on the price! Read reviews, ask friends and other travellers about their experiences. Better safe than sorry!
DO study up on culture
If you want to fully immerse yourself in a new culture, Southeast Asia is the place to go – it's a cultural hub with incredible food, people, and traditions! It's also known for its laid-back party environment, but its still important to be aware that you're in a different country and it's important to stay safe. Do some research on the area – common scams, areas to avoid, etc. – and you'll seem like a local!
DO book a tour
It can be daunting to travel alone, especially in a foreign country. Planning your own solo travel around Southeast Asia is possible, but not as safe – or as fun – as going with a group! Booking a tour gives you access to regional knowledge and added safety. Not to mention, tour companies take care of everything so you can enjoy stress-free planning and focus on the fun!
At Ultimate, we handpick each adventure and accommodation, with your safety as priority! All of our Ultimate guides are fully licensed and first aid certified. And, as an added bonus: our guides are locals! They have loads of knowledge on the area, and know all the fun places to visit, swim, eat, etc! You're in good hands! Our Ultimate Bali, Ultimate Thailand, and Ultimate Vietnam tours are a perfect way to kickstart your adventure around Southeast Asia in the safest way possible!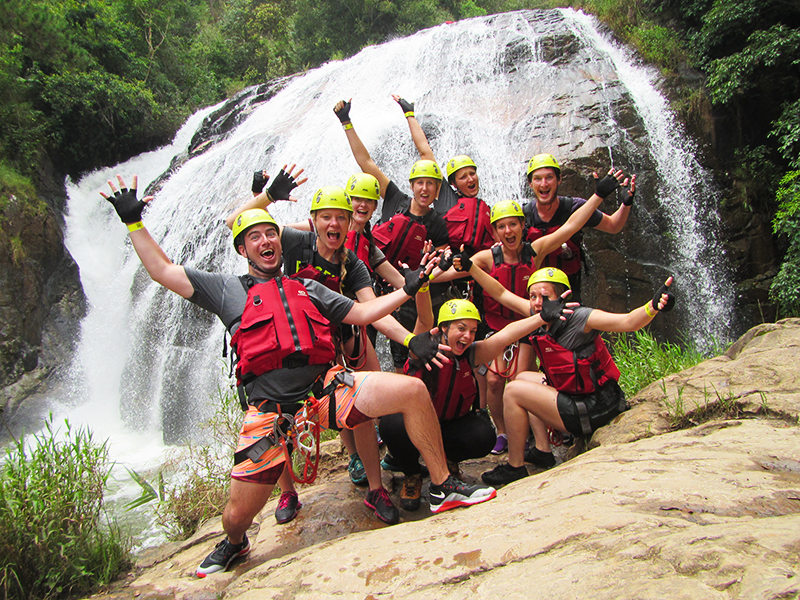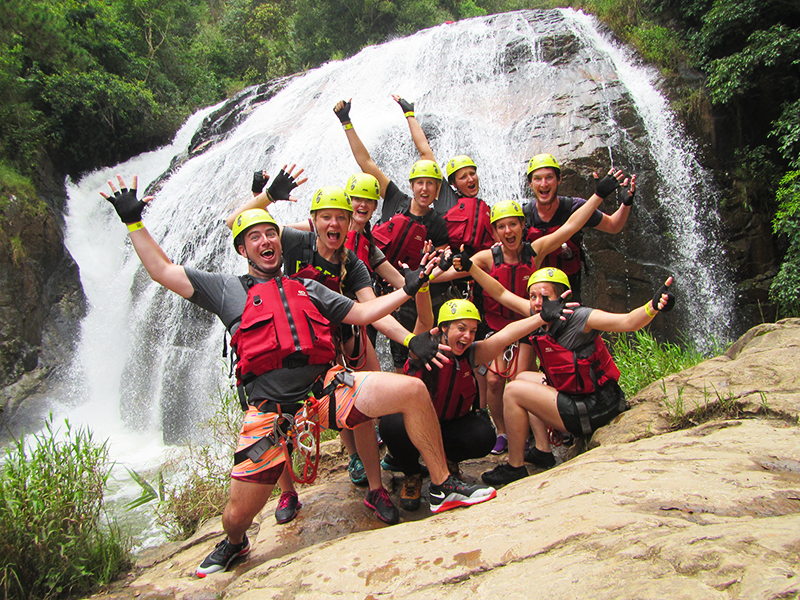 DO go easy on the booze
You're on holiday – obviously you want to celebrate! But don't forget you're in a different part of the world. Have fun, but don't do anything you wouldn't do at home. You're here for a good time, but you want to remember it so go easy on the drinking! Some friendly advice: sharing is caring! Yes those buckets full of booze you'll pick up at the Full Moon Party in Thailand are delicious, but they're pretty strong! And if the alcohol doesn't kick you over the edge, then the "Thai Red Bull" (with 3 x the potency of red bull as we know it!) will! Be a good sport and split one with a mate.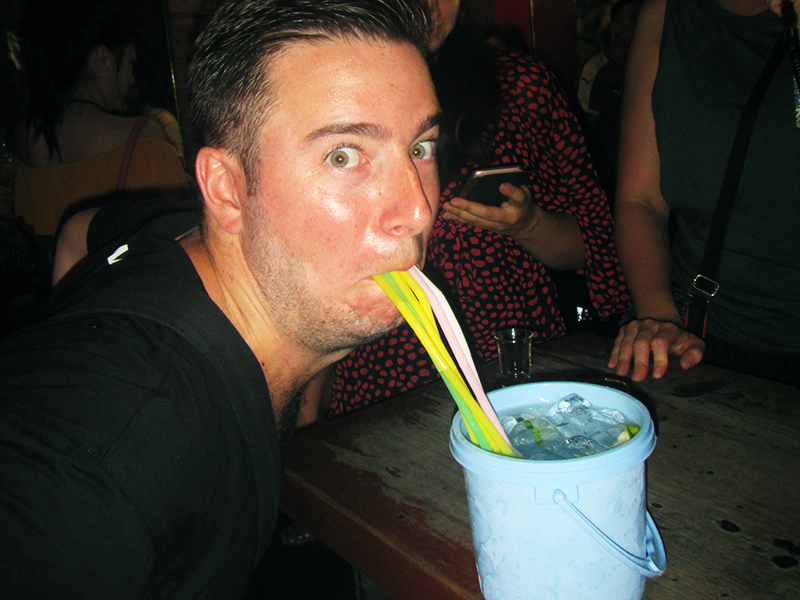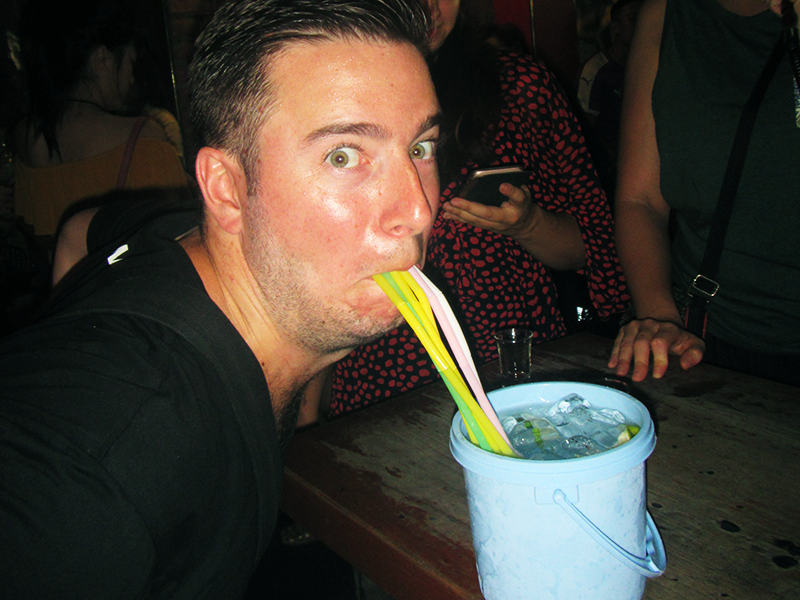 DO stay with your group
A helpful hint: there's power in numbers! Accidents happen when people decide to wander off on their own, hop fences, and go to restricted areas. Our advice: don't wander off the beaten path and stay with your travel mates.  If you booked on Ultimate Thailand, our tour guide will take you to the Full Moon Party and tell you all the best places to go! You'll also be with all your new travel mates, so you'll want to party with them anyway. Want to prep for your Full Moon experience? Check out our blog on with the ultimate Full Moon Party survival guide.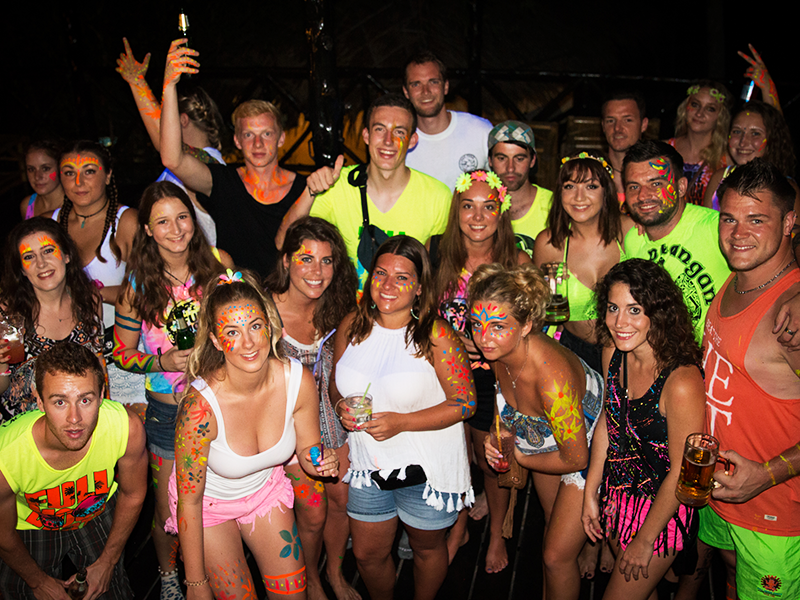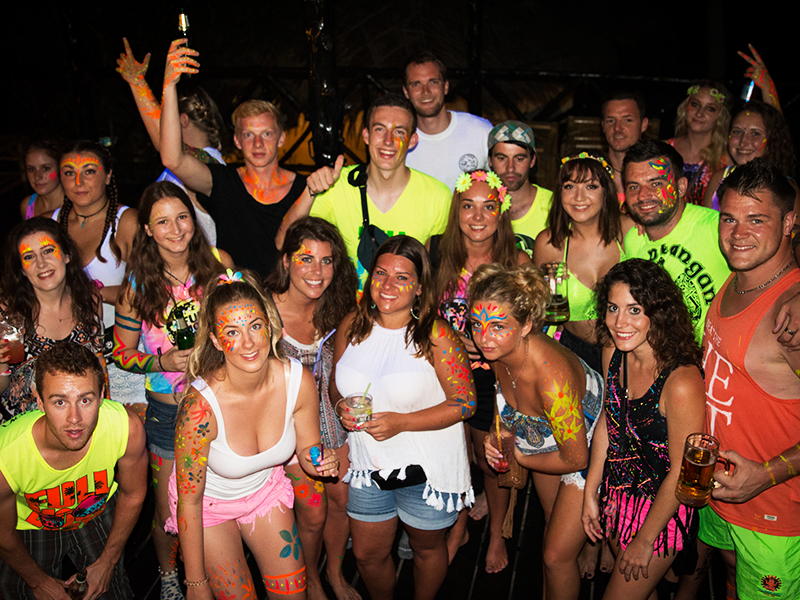 DON'T eat that
We're all about trying new food, and Southeast Asia you'll eat some of the best food of your life. But no one wants to get sick on a trip! Avoid "Bali belly" by sticking to bottled water and avoiding food from outdoor markets. Or, listen to your guide's advice on what market food is okay to try – like scorpions! Would you dare?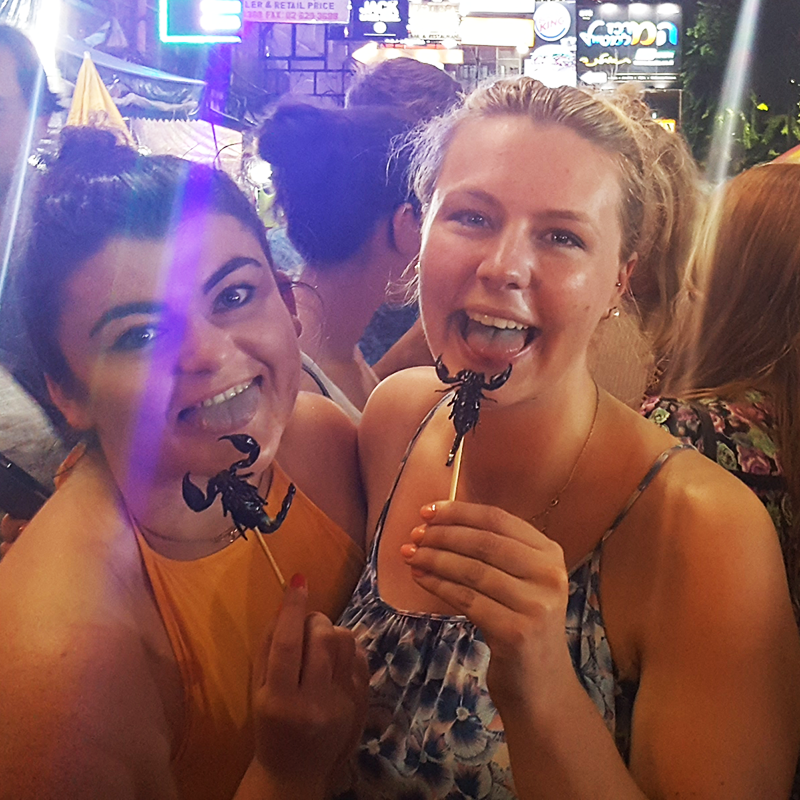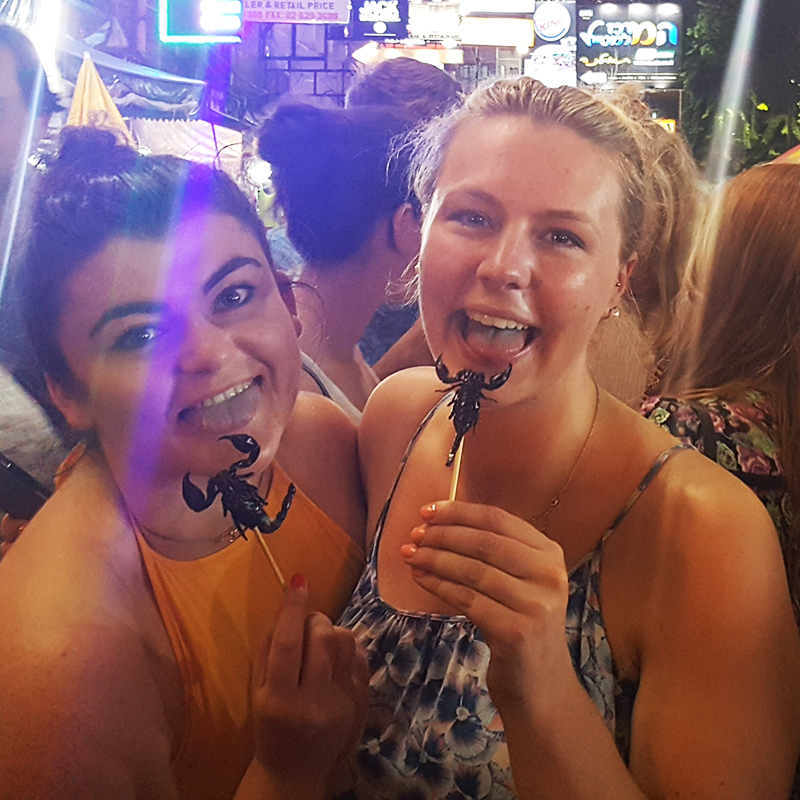 DO trust your gut
The same gut that avoided "Bali belly"! Travelling is the best thing you can do so we hope you're never in a situation when you feel uneasy while travelling. But just remember, you're smarter than you think! If something seems sketchy, or makes you uneasy – go with your gut and don't do it. (The reverse works too – trust your gut on trying crazy new adventures for the best experience!!)
DO have a great time
You're on the adventure of a lifetime – make the most of it! Try new food, go on crazy adventures, party until the sun comes up! At Ultimate – it's our mission to make sure you're having an amazing time! Our guides will ensure you're safe, and take any precautions necessary so you can focus on the fun!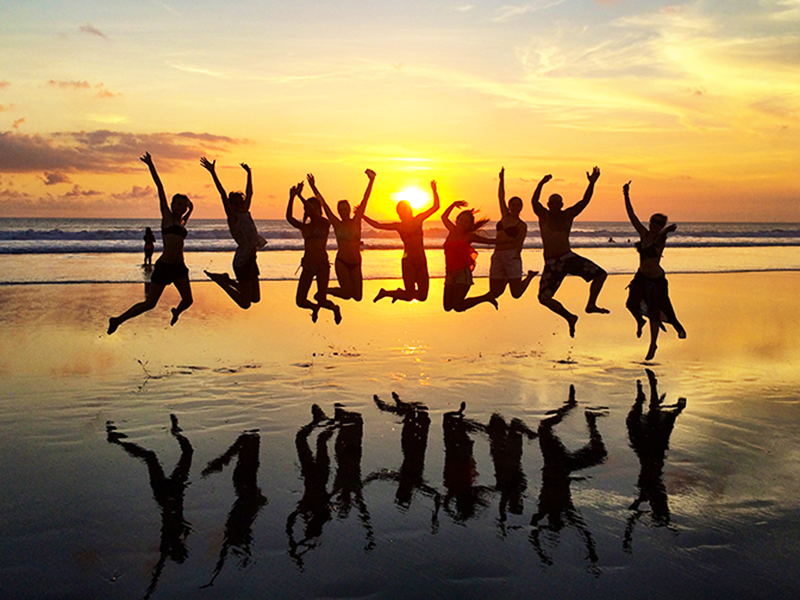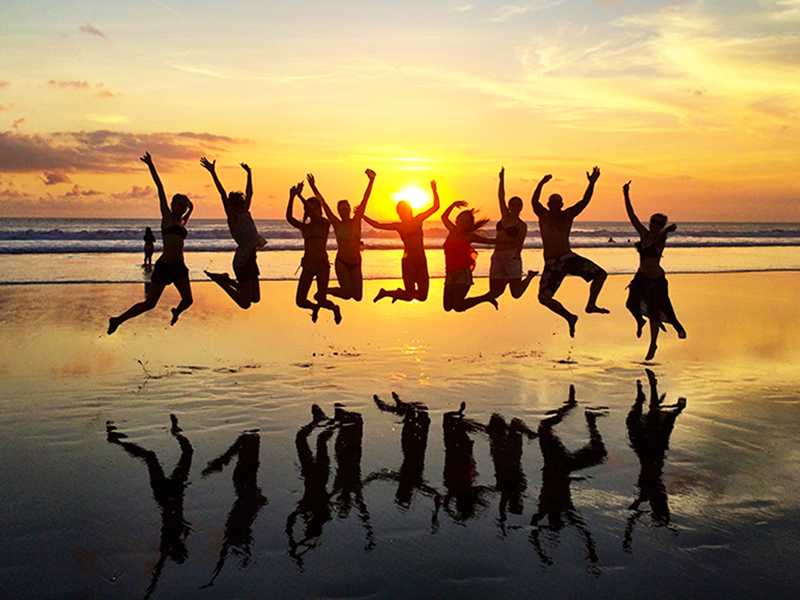 So…the answer is YES!
Southeast Asia is safe to travel to – just travel smart! Ultimate's here to ensure your safety and an unforgettable experience! Just follow our guide and get ready for the time of your life!
Want to travel to Southeast Asia? Check out our incredible Bali, Thailand, and Vietnam tours! If you have any more questions about travelling in SE Asia, register your interest and someone from our lovely crew will get in touch!
We love to keep you updated on all things travel! Check out our Facebook page & Instagram feed for trip inspiration!
https://www.ultimate.travel/wp-content/uploads/2017/10/is-southeast-asia-safe-to-travel-to.jpg
700
1200
Bernie Augstein
https://www.ultimate.travel/wp-content/uploads/2020/04/Ultimate-Logo-2020-Clean-v2.png
Bernie Augstein
2017-10-11 16:02:27
2019-06-14 10:42:38
Is Southeast Asia Safe To Travel To?