Learn to Surf on Your Aussie Gap Year!
About 4 months ago, I had never touched a surfboard in my life. Now, I surf at least two times a week and love it! Learning to surf on your Aussie gap year is a must. Surfing is the perfect hobby to get in to. Not only is it great fun, but you will meet loads of new people, and see lots of incredible beaches! 
Hey! My name is Bernie, I came to Australia 4 months ago on a working holiday visa. I've always enjoyed adventure spots (skating, Skiing, BMX) so learning to surf on my Aussie gap-year was a must on my bucket list! I started surfing 2 weeks after arriving in Oz and haven't stopped since. In all the time I have been surfing, I've never seen a shark, just some friendly dolphins! Having the right location, and right support can be crucial when learning to surf. You can just throw yourself in head first (literally!), or you can have some lessons to get yourself kickstarted. Below are four of my favourite spots for learning to surf!
4 Great Beginner Surfing Beaches in or Around Sydney:
7 Mile Beach
Though Gerroa is a couple of hours south of Sydney, 7 mile beach is a great beach to learn on. You have (the clue is in the name) 7 miles of beach to play with, so you can take up as much room as you like splashing around! If you're lucky, you may even bump into some friendly dolphins while surfing, which is a pretty surreal experience! This is where Surf Camp Australia is based – which is an amazing 2 or 5 night experience. Everything is organised for you: the transport there, accommodation, more food than you could wish for, and surf lessons. Quite literally 'Surf, eat, sleep, repeat'. If you want to surf on your Aussie gap year, and are keen to get your surfing kickstarted, UltimateOz Surf Camp at 7 mile beach is the way to do it! Check it out here, or email the Ultimate travel crew to get booked in.
Bondi Beach
Bondi is Sydney's most famous beach, I'm sure you've heard of it already! Not only does Bondi have a great atmosphere, but it is fantastic for learning to surf. Rent a board and jump right in, or you can get a few surf lessons to get the ball rolling. Check out our Ultimate Sydney package if you're keen to kickstart your surfing at Bondi!  
Maroubra Beach
Maroubra is a few beaches south of Bondi, just below Coogee. Well renowned for being a wave magnet, Maroubra is a very popular one with the local surf addicts. Fortunately, it is not quite as popular as Bondi so you should have a little bit more space to do your thing!
Garie Beach
Located in the Royal National Park, Garie beach is just over an hour drive south of Sydney. The drive down there is amazing, with great views of the national park and surrounding nature. Garie is popular with Aussies, so you are bound to bump into some cruisey chaps living in their cars with a surfboard! The beach is pretty quiet even on the busiest of days, so you will be able to have a paddle in the water without worrying about others. And you have over a kilometer of beach to play with!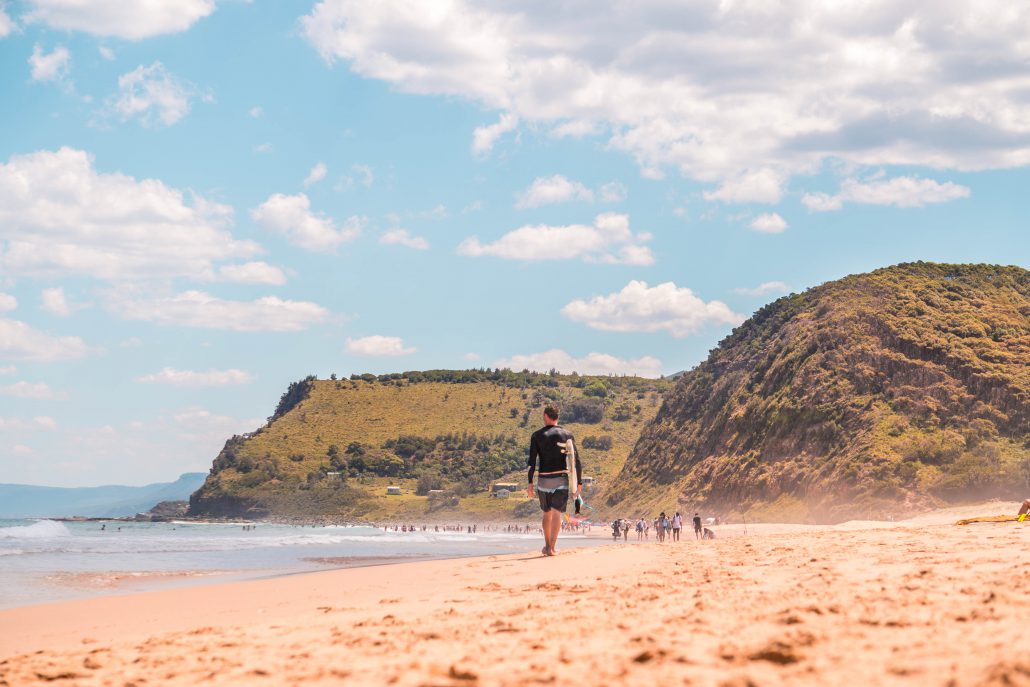 So there you go, my favourite four beaches in and around Sydney for beginner surfers! There's no better time to learn to surf than on your Aussie gap year. Just dive in, give it a go and you'll be having fun in no time. And remember, the best surfer out there is the one having the most fun! 
I haven't ventured to North Sydney just yet, so apologies if I have missed out any real gems! Let me know down below if there are any good ones I have missed.
P.S. All photos were taken by me – follow @bern_ek on Instagram to keep up with my surfing adventures!
https://www.ultimate.travel/wp-content/uploads/2018/01/surf-lessons.jpg
700
1200
Bernie Augstein
https://www.ultimate.travel/wp-content/uploads/2020/04/Ultimate-Logo-2020-Clean-v2.png
Bernie Augstein
2018-01-17 16:43:58
2019-06-14 10:31:31
LEARN TO SURF ON YOUR AUSSIE GAP YEAR