So you've booked your trip to Southeast Asia, yay you've done it! Get ready for the time of your life. As the countdown shortens and your anticipation grows, you'll begin to ask yourself some pretty big questions such as: Who will I meet? What will we see? Will I miss home? Nah! But what about the biggest question: What do I pack?! This question haunts us all. Anyone preparing for their next journey knows how stressful this question can become – but don't worry, we're here to help. Aside from obvious items such as clothing, traveller's insurance, and passport, here are 10 must-have items specifically for any Southeast Asia adventure.
These microfiber, multi-purpose towels are the perfect item to pack. They'll save you plenty of space compared to your normal bath towel, and they dry quickly in the heat – even better! Personal tip, check the size of your towel before purchase. Nothing worse than a too short of a towel in between hostel shower runs. And don't worry about packing a beach towel, invest in a cheap sarong instead. Not only is a sarong multi-functional ladies, but it makes for a great souvenir!
While all hostels should provide you with linens, a sleeping bag liner can be nice to have on those long bus journeys. Also known as a sleeping cacoon, it's compact so easy to carry, and light enough to keep you cool. It'll also help with hygiene and preventing any small creatures getting to you. Lastly, silk vs. cotton? Test them both out, and see which you like best.
Speaking of small creatures, nothing is worse than letting mozzie bites hinder your fun. Prevent these bites by a frequent and thorough application of repellent containing a medium percentage of DEET. Not only will this help prevent the itch, but it's a great way to make new friends as everyone appreciates the one who remembered the DEET on a night out!
A nifty set of items to keep your belongings organized. Good for separating your toiletries, undergarments, electronics, etc. Avoid the frustration of trying to find that adapter hidden between your clothes at the bottom of your rucksack. Use packing cubes to make living out of a bag easier.
Ziploc Bags/Plastic Bags: Something you may not think of, but that always comes in handy. Good for those muddy shoes, wet swimmers, and dirty clothes. The uses are endless and it's always good to have a spare just in case. Note: when using plastic bags, always be courteous of your sleeping bunkmates. Similar to crisps in a cinema, nothing is more frustrating than someone rummaging through their bag when you're trying to catch some ZZzz's.
Dry Bag: Thinking of canyoning in Vietnam, tubing in Laos or joining the largest water fight in the world when visiting Thailand? May be worth investing in one of these bad boys. Don't stress about your clothes or electronics when you're getting wet as you're items will stay perfectly dry.
Day bag: Aside from your large bag, a day pack is a vital item. Good for those day trips and also for holding the valuables you may not feel comfortable placing under the bus. Rock the backpacker look: day pack on the front, backpack on the back!
Avoid theft by keeping your valuables safe during your travels. While hostels should provide lockers for their guests, you will need to supply your own lock. I recommend a combo lock vs. a key lock, as it's once less item to keep track of. 😉
Not the most glamorous of items – but a must! You do not want to step into a public bathroom without these. Be extra prepared and always have tissues on you just in case.
Before you board the plane, best to pack a worldwide power adapter set. Outlets vary between countries, so be sure to have the correct adapter. Personal tip, remember that these do not convert voltage. Not that any female should be bringing a hair straightener with them to SE Asia to begin with, but should you feel the need and want to avoid a blow-out, invest in a voltage converter as well.
Hopefully you won't have to use this item, but better to be safe than sorry. Pack a travel-sized emergency kit to keep you and your mates prepared. Containing plasters, tweezers, antibacterial wipes, scissors, and sometimes even sewing kits – these packs can really make the difference when needed.
And lastly, YOUR BACKPACK – duh!
Yes, this is the most crucial item on the list so be sure to check out our backpack vs. suitcase blog for additional help, but here are some key tips to remember:
Choose a backpack that's right for you. Be sure that it's easy to carry and see if you can even get it properly fitted before you leave. Based on personal experience, I recommend a backpack vs. a suitcase when travelling Southeast Asia. Being that I knew I'd be travelling to Australia after my time spent in Asia, I went for a hybrid of the two and look how cool I ended up looking….not.
Most roads in Southeast Asia aren't meant for suitcases, and the more off the beaten path you get the more you will find this true. Invest in a good backpack and you can't go wrong.
Things you can leave at home:
Expensive accessories: Leave the jewels at home! It will attract unwanted attention and rather than bringing your valuables with you, invest in some knock offs instead. Your friends will be jealous when you return home with a new Rayban collection.
Heavy clothing: Aside from the north, you'll find the majority of Southeast Asia to be extremely warm and humid. Ditch the heavy coat and stiff jeans for a light down jacket and some comfy elephant print pants instead.
Lastly, pack light! Rule of thumb, pack everything once, then take out 50% and repack. Worst case scenario, you forget something and you'll need to buy it overseas. But don't fret, everything from clothing to toiletries to electronics can be found easily and often at an even cheaper price. Although it's best to be prepared, embrace the spontaneity of travelling. Don't let your wardrobe get you down. You never know, you may come out looking like a true local by the end.
Planning a trip to Southeast Asia? Get in touch! Our Southeast Asia tours are perfect for backpackers looking for a fun, hassle-free, safe way to travel whilst having the time of your life with new mates!
'Like' us on FB for travel inspiration, photos, videos and more blogs and follow us on Instagram (ultimate.travel) for travel pics!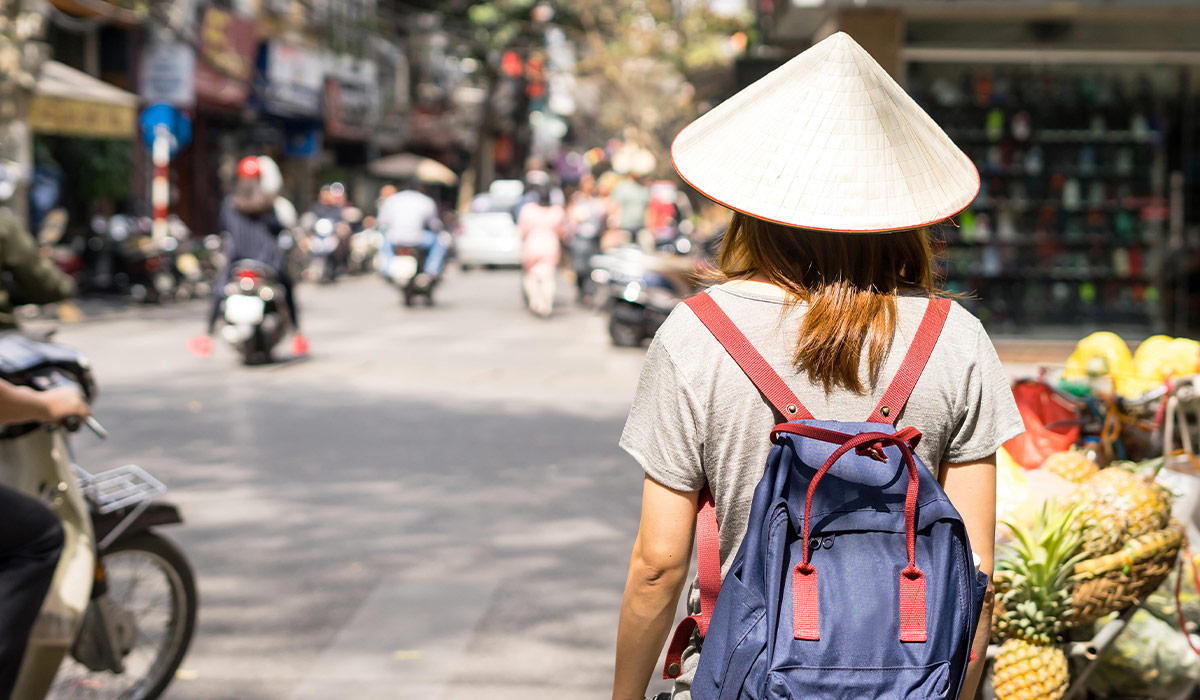 https://www.ultimate.travel/wp-content/uploads/2015/09/Asia-Packing-List.jpg
700
1200
Bernie Augstein
https://www.ultimate.travel/wp-content/uploads/2020/04/Ultimate-Logo-2020-Clean-v2.png
Bernie Augstein
2015-12-11 09:00:34
2020-06-17 13:00:15
The Ultimate Southeast Asia Packing List!