It's no secret that Thailand has some of the most beautiful beaches in the world. But did you know that Thailand is home to about 1430 islands? The idea of choosing which ones to visit can be pretty daunting! With Ultimate Thailand we take you to some of our favourites, Koh Phi Phi and Koh Phangan, but after your 10 day adventure, we can recommend some other fantastic islands to check out on your onward travels through South East Asia. Feel free to get in touch with our crew for some travel tips from us!
"Koh" is the Thai word for island, and they are grouped either to the east or west of the mainland, each with varying weather systems. If you find it's raining on the side of the country you are on, it might be worth a hop across to the other side to continue soaking up the sunshine.
We end our tour on day 10 in Koh Phangan, and a popular choice after this seems to be to hop over to nearby Koh Samui, which is just a short ferry ride away. Koh Samui is Thailand's second largest island, with 1.5 million tourists a year.  It's not surprisingly one of the most popular options as it has so much to offer, from luxury honeymoon destinations, to budget bungalows and villas. There are also many hidden coves and quiet beaches to discover. If Koh Samui is a little touristy for your liking, why not head over to the increasingly popular Koh Tao where you can dive in one of the world's best spots. As an added bonus, just 15 minutes from Koh Tao is a group of islands called Koh Nangyuan that are all connected by strips of powdery white sand.  Why not rent a scooter for the day to explore the island, watch the sunset and unwind in utter paradise.
Once you've explored the East side to your heart's content, head back across the mainland over to the West, where crystal clear waters await you. If you've just finished our 10 day tour, you will have already seen the breathtaking Phi Phi islands, so I'd suggest heading to Krabi where there are numerous island exploring boat trips to choose from.  Krabi is also where a key ferry port is located, giving you easy access to loads of the other amazing islands of Thailand. If you really want to head off the beaten track you should head over to Koh Lipe, Koh Muk or Koh Lanta, read more information about them here.  Wherever you choose, give yourself plenty of time to check out some unbelievable places. After all, who can get bored of tropical paradise?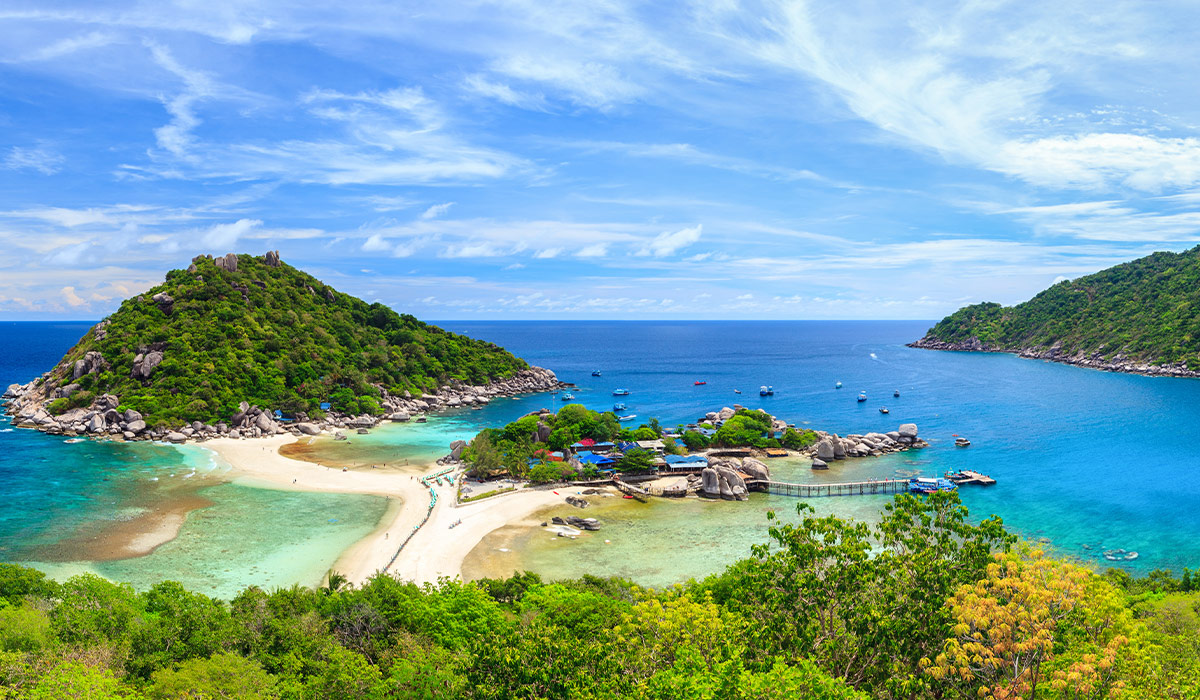 https://www.ultimate.travel/wp-content/uploads/2015/09/Travel-Bug.jpg
700
1200
Bernie Augstein
https://www.ultimate.travel/wp-content/uploads/2020/04/Ultimate-Logo-2020-Clean-v2.png
Bernie Augstein
2014-03-28 08:00:14
2020-06-18 10:37:39
1430 islands of Thailand