Thousands of backpackers head to Thailand, Vietnam, Malaysia, Laos, Cambodia, Indonesia and other countries in Southeast Asia, every year.
In my opinion, Southeast Asia is one of the most exciting, interesting and beautiful places in the world and if it isn't on your bucket list, it should be! I'll never get bored of island hopping my way around Thailand, eating amazing street food in Vietnam and partying on the beaches in Cambodia! But how can you make sure you make the most of your time when you're there?
Here are a few common mistakes made by backpackers (including myself) travelling to Southeast Asia and tips on how to avoid making the same ones!
Every time I travel to Southeast Asia I commit the ultimate backpacking sin: packing too much. I overload my backpack and end up spending weeks carting around a massive heavy backpack full of things I don't need. For some reason I always seem to forget that I'll be spending the majority of my time in a bikini and shorts, occasionally throwing on a T-shirt and some flip-flops if I feel like it! One of the many beauties of travelling to Southeast Asia is that you can pick up almost anything you want in markets, and it's usually a lot cheaper! Leave room in your bag for all the bits you'll pick up along the way and leave your shoe collection at home! There's something so refreshing about not taking much with you when you're travelling. Less belongings = less to worry about. You'll be less concerned about your belongings being stolen and you won't break your back carrying things around. So girls, leave your hairdryer & makeup at home and embrace salty sea hair and a bare (bronzed) face instead!
When it comes to travelling to Southeast Asia, especially if it's your first time, tours are the way to go. You'll meet other likeminded backpackers, have the 'safety net' of an experienced tour leader with you and you'll be taken to places you might have missed travelling solo, not to mention it's a much safer way to travel around whilst you're getting used to being in a new place. A mistake some backpackers make is landing in Southeast Asia for the first time, experiencing a bit of culture shock, not knowing where to go or what to do and not being able to relax and fully enjoy the experience. Having a plan and people to meet when you first arrive is a great way to get started! If you're planning a trip to Southeast Asia, get involved in Ultimate Thailand or Ultimate Vietnam!
Whilst tours are an amazing way to have fun and explore in the safety of a group, once you've got your bearings and if you want to travel on by yourself it's important to plan just the right amount of travelling. One of the best parts of travelling for me is the freedom to go where you want, when you want. Speak to locals and other backpackers for recommendations but don't get too bogged down in the planning side of things. If you stay smart (carry just enough cash with you if you know there are no ATM's in the area and keep your passport safe) the rest will fall into place – it's all part of the experience! Hop on a boat, head over to that paradise island and see what you find there! Whilst it's good knowing what you can do in the area so you don't miss out, planning where you'll stay and exactly what you want to do at your next destination can take the adventure out of your trip. Be spontaneous and go with the flow – you never know where it might take you!
One of the biggest mistakes you can make travelling through Southeast Asia is forgetting that you're in Southeast Asia! It can be tempting to book into a nice air conditioned room for the night, making sure you have constant access to wifi, ordering pizza for dinner and spending your time with other westerners but you'll miss out on the most important part: actually experiencing the country you're in. Turn off your phone, eat the local food, try the local delicacies, drink beer on a stool in the street, sleep on a hammock on the beach, use the local transport, chat to and visit the places recommended to you by the locals and embrace the culture. Looking back, you'll regret that time you spent scrolling through Facebook in the comfort of your air conditioned room when you could have been exploring – make your time count!
5. Spending Time Worrying
Horror stories of theft, scams and tummy bugs in Southeast Asia are all too common but with a big tourism industry and friendly locals SE Asia isn't actually as scary as you might have heard! One of the worst things you can do is ruin your trip by worrying too much! Yes, you might get a tummy bug along the way after eating some dodgy street food, yes your bag might get stolen and yes, you'll probably be ripped off a few $ along the way but spending your time expecting something bad to happen won't change that. Instead of worrying read up on some travel tips before you go, ask other backpackers for food recommendations and keep an emergency stash of cash hidden somewhere safe.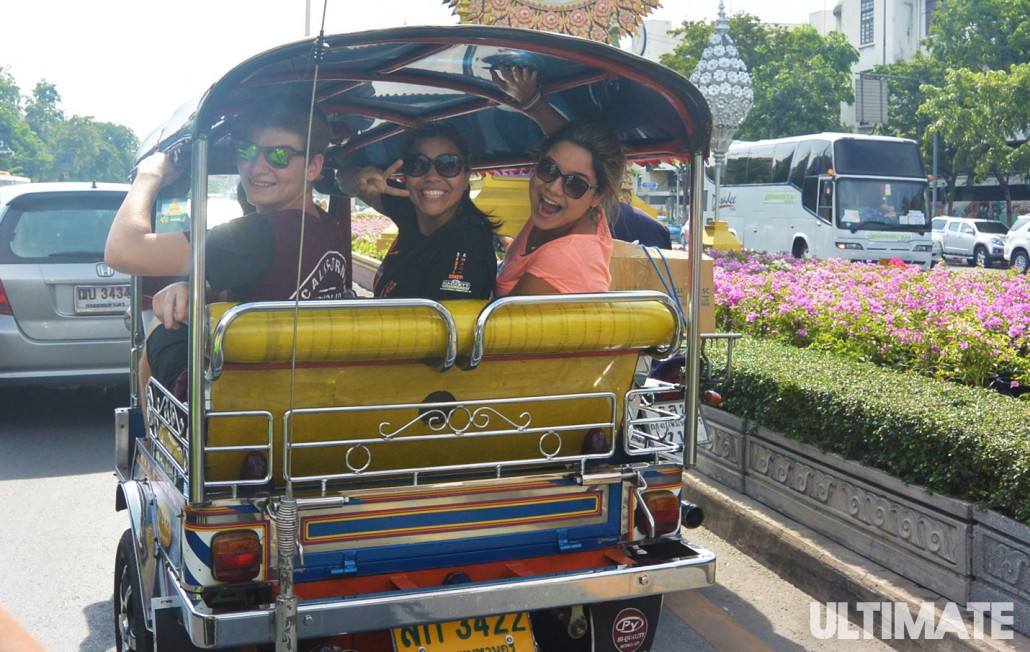 6. Trying To Do Too Much!
With so much to explore in Southeast Asia, it's easy to try and fit too much in to your time but in doing so, you won't be making the most of your trip. Travelling isn't about ticking a thousand things off your bucket list and fitting in all of the 'top tourist attractions' just to get a good photo for Instagram. It's about experiencing the country you're in and taking your time to appreciate where you are and who you're with. Some of the best travel memories I have are from the times I decided to spend longer in one place, getting to know the area and the people I was with, even if that meant missing out on my next stop. Create a list with the places you've always dreamed of going to and make a realistic plan so that you can take your time and experience those places properly. Where can you visit with the time and money you have? And if you don't get to do everything you wanted in one go, you'll have another excuse to go travelling again..as if you needed one! 😉
Want to travel but not really sure where to start? Get in touch! The Ultimate team have all been there and we're happy to help! Check out our tours in Australia, Thailand and Vietnam.
'Like' us on FB for travel inspiration, photos, videos and more blogs and follow us on Instagram (ultimate.travel) for travel pics!
https://www.ultimate.travel/wp-content/uploads/2016/01/mistakes-backpackers-make-.jpg
700
1200
Bernie Augstein
https://www.ultimate.travel/wp-content/uploads/2020/04/Ultimate-Logo-2020-Clean-v2.png
Bernie Augstein
2016-01-08 11:29:42
2019-08-30 13:59:03
6 Mistakes of Backpackers in Southeast Asia